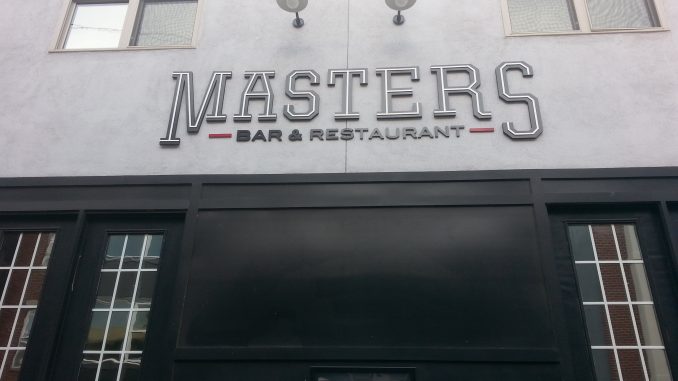 Grabbing a drink this year just got a little easier for Temple students aged 21 and older.
The newest addition to Temple's bar scene, Masters Bar & Restaurant, opened July 11 and is located on the 1500 block of Carlisle St. Owner Waylon Nelson said he set the building up to offer different atmospheres on different floors.
The first floor of the bar is a traditional restaurant and bar, while the upstairs appears more like a relaxation area until evening, when both floors transform into party areas complete with a dance floor.
"I wanted to bring more of Center City to campus," Nelson said.
Nelson said the look and the feel of Center City bars fascinate him and wanted his bar to have the same upscale type of environment. However, Masters is not lacking in Temple spirit.
"I'm looking to become part of the Temple community," Nelson said.
The second floor, known as "the study," has sofas and tables for students to complete their work while relaxing and having fun.
Besides attracting students with a study hall and what he called a "nice environment," Nelson said he plans to host special events to attract new faces with happy hours, karaoke and light shows.
"The first big event I plan to throw is a Halloween Party, with it being the first big holiday coming up," Nelson said. "I am also starting to throw packages together for upcoming twenty-first birthday parties."
One of Nelson's employees, bartender Jennifer Grabel, said she is excited to plan these different events alongside Nelson and to cater to different clubs.
"Younger clientele is the type of crowd we're looking for," Grabel said. "We're looking for the cream of the crop. Young professional adults."
While Nelson and Grabel are planning different upcoming events, they are not overlooking the aspect of safety. The duo said that safety is their top priority.
According to Nelson, Temple has already installed lights and cameras outside the facility. He believes that the close proximity to campus will also help make the bar safer, especially for those moving into the new apartments across the street.
Temple student Joe Augustus heard about Masters from a friend and decided to check it out.
"I would recommend this place to all of my friends," Augustus, a senior sports and recreation management major, said. "My friend and I will be coming back the next day already for Thirsty Thursdays. I just turned 21 so I will be coming here a lot."
Others that have visited Masters have taken a liking to the food and say that by the time students come back for class in the fall it should be a popular hangout.
"The food is awesome," Veronica Lichtenwalner, a Masters customer, said. "It's nicer here compared to the other bars. I think the atmosphere will be better in the fall with more students and the upstairs study hall is great for the students."
Nelson and his employees said they are pleased with the turnout of students so far this summer and have high hopes for the future of the bar this coming semester.
"I want this to be the place people talk about after graduation," Nelson said. "I want them to say to their friends, 'Remember that one time at Masters?'"
Karlina Jones can be reached at karlina.jones@temple.edu.