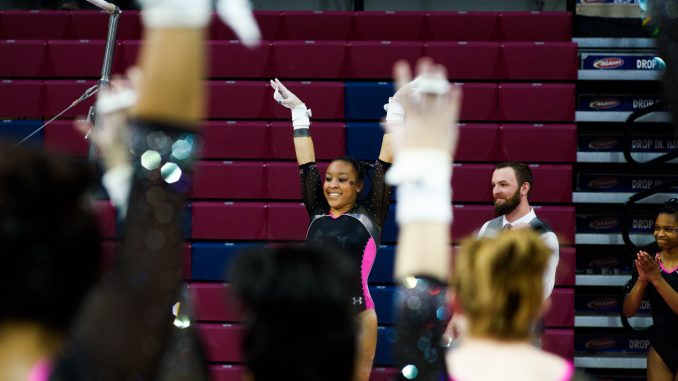 As soon as senior India Anderson finished her floor routine at the NCAA Regionals, coach Josh Nilson ran over to give her a hug. The two both knew it was her last time competing for Temple University.

Anderson, along with freshman Ariana Castrence and sophomore Monica Servidio, all represented Temple (19-14, 4-1 Eastern College Athletic Conference) at the NCAA Regionals in Athens, Georgia on Friday.

In her last collegiate competition, Anderson earned a 9.825 in the floor exercise, which tied her for 10th in her session. Anderson has scored a 9.825 or above in an event for the 11th time this season. She was the first gymnast to represent Temple at the regional competition in the floor exercise.

Anderson has meant a lot to the team and will be tough to replace, Nilson said.

"Anderson has had an up-and-down career," Nilson said. "She's fought some injuries throughout her career. It was culminating for her to end her college career at a regional meet. She's our top floor performer. We're not looking forward to replacing her."

All three gymnasts qualified for regionals for the first time in their careers. The Owls sent three gymnasts to regionals for the first time since 1997.

Castrence scored a 9.85 on the vault, which tied her for fifth in her vault session.

Servidio posted a 9.6 on the balance beam, which placed her 24th in her session. Servidio was the first Temple gymnast to qualify for regionals in the balance beam in program history.

Servidio only competed in 10 meets last season due to injuries.

Servidio deserved to compete at the regional meet after overcoming injury, Nilson said.

"[Servidio] is a tremendous athlete," Nilson said. "For her, it's been about the team all year long. We're really proud of her. While we'll give her all of the credit, she just wants to compete for her team."

The Owls will only have to replace two gymnasts after this season, Anderson and senior Morgan Fridey. Temple is returning four gymnasts with experience competing in regionals, including Castrence and Servidio. Junior Jaylene Everett posted a 9.525 on the vault in last season's competition. Junior Daisy Todd posted a 9.8 on bars in regionals during her freshman campaign in 2017.

Nilson said the team achieved a lot in his first season as coach, but believes his team can build off this season and accomplish more for next season.

"We did a lot of what we sought out to do," Nilson said. "This year, we won our first [ECAC] championship. We only lost one conference meet. We're hungry. They can beat any team."