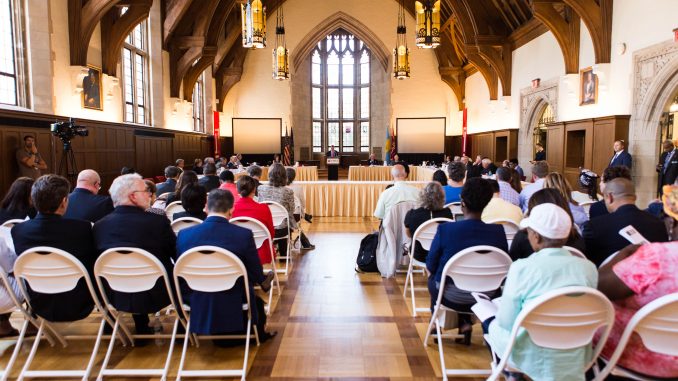 Board of Trustees Chairman Patrick O'Connor said he is "not opposed to the concept" of adding a student voting seat to the Board, but it would require the university to change its internal structure.
BecomingTU, the executive team elected to lead Temple Student Government during the 2019-20 academic year, has hopes to establish a position on the Board for a non-TSG student. But to give this student a seat at the table, the university would have to change its bylaws and expand the size of the Board.
Francesca Capozzi, the student body president-elect, said the team is willing to put in the required work to establish the seat. But there would be logistical hurdles, O'Connor said.
"Me, my team and students believe this is kind of vital in building this trust because we want to ensure that the administration is not just hearing our voices, students' voices, but using them," Capozzi said.
Capozzi did not approach anyone on the Board about the platform point before TSG elections, which began in mid-March and ended on April 4 when BecomingTU won, she said. As the director of university pride and traditions for the current IgniteTU administration, Capozzi worked with administrators and attended public Board meetings.
The student body president sits on the Board as a non-voting member, along with the president of the Faculty Senate.
"They're making decisions in these meetings that do affect us as students, but we don't even have a say in what they're doing," Capozzi added.
THE PROPOSAL
While TSG's student body president has been afforded a non-voting seat on the Board for about five years, Capozzi said it's key that a student, separate from TSG, that can vote on Board decisions.
Gadi Zimmerman, the current student body president, said the non-voting seat allowed him to advocate to the Board on issues like food and housing insecurity.
Zimmerman and other TSG representatives also attend the Board's public committee meetings, he said. The Board has 14 standing committees, including the Academic Affairs, Student Life and Diversity and Budget & Finance committees.
"In the public sessions with the entire Board, I'm able to give a summary of what student government is doing and what the student body is doing in general," Zimmerman added. "It's a great opportunity for the public, but especially the Board of Trustees, to understand what students are doing on campus."
BecomingTU is not the first executive team to suggest establishing a student seat on the Board, Zimmerman said. When it was campaigning, IgniteTU's platform stated his administration wanted to create a non-TSG student liaison who would communicate student concerns to the Board.
While sitting in committee and Board meetings this year, Zimmerman realized it'd be more beneficial for a student to have a voting seat, he said, but his administration did not have the time to research and propose the idea while managing other initiatives like its Campus Hunger Awareness Week in Fall 2018.
It's unlikely that as student body president, he would've been able to simultaneously serve as a student trustee, Zimmerman added.
"You really want to make sure that the student that does want to apply for that voting seat has enough time that they can devote every second other than classes and extracurriculars into that voting seat," he said.
The position should be filled by a non-TSG student who can bring an outside perspective to Board discussions, Capozzi said, though her administration would stay in contact with the student to relay the concerns they hear as TSG's Executive Branch. BecomingTU also hopes to retain the non-voting seat on the Board for the student body president.
"Temple Student Government directors and everyone that's a part of Temple Student Government is pretty involved with a lot of administrators and whatnot, and just having that outside student perspective that isn't influenced by administrators or previous knowledge could be valuable to students because they're bringing raw student thoughts and views into those meetings," Capozzi said.
BecomingTU discussed establishing the seat on the Board during both executive team debates of the TSG 2019-20 election season. During the first debate, Capozzi pointed out that O'Connor's tenure as chairman is ending in July and said this time of transition is the best to institute change. Trustee Mitchell Morgan will take over as chairman on Aug. 1, and O'Connor will remain a trustee.
But this leadership change wouldn't affect the feasibility of establishing a voting student seat, said Anne Nadol, the vice president and secretary of the Board.
"It doesn't matter who the chairman is," she said. "It's still a change of the bylaws. It still requires a vote of the full Board."
ESTABLISHING THE SEAT
The Board is currently comprised of 33 voting members. At capacity, there are 36, 12 of whom are appointed by Pennsylvania's governor, Senate president pro tempore and House speaker. The remaining 24 appointees are nominated by the Board's Committee on Trustee Affairs and elected by a majority vote from the Board, and are typically successful alumni who are significant donors to the university.
Elected trustees serve four-year terms, which are renewed by a nomination from the Committee on Trustee Affairs and vote by the Board, minus the trustee who's up for renewal.
Any person can submit an application to the secretary's office for the Committee on Trustee Affairs to consider be elected to the Board, Nadol wrote in an email to The Temple News.
There are no current vacancies for elected trustees. Dennis Alter, who resigned from the Board last month, was appointed by the Commonwealth and will be replaced by another state appointee. The university does not control who the state selects and applications are not accepted for those seats, Nadol added.
In 1971, Alan Cohen, a 1972 College of Liberal Arts alumnus, sat on the Board for one year as the university's first student trustee on an interim basis. Former Governor Milton Shapp appointed Cohen to the Board as one of the Commonwealth's 12 appointees.
O'Connor, who did not attend Temple but was awarded an honorary degree in 2013, would not support a student voting seat unless the Board simultaneously creates one for a faculty member, he said, because the university's faculty have been "railing that for years."
"I'm not going to solve one problem to create another," O'Connor said.
If the majority of the Board agreed with O'Connor, establishing these two seats would require the university to change its bylaws, allowing 38 Board seats instead of 36, Nadol said. Bylaw changes are submitted to the Committee on Trustee Affairs, forwarded to the full Board for a vote and passed if the majority is in favor.
The Board typically votes on changes to bylaws and elects new trustees at its annual meeting in October, she added.
DUTIES AND RESPONSIBILITIES OF A TRUSTEE
At the Board's public meetings, trustees formally vote on topics like the university's academics and finances. There is never debate among trustees when they are voting during these meetings.
During its public session last month, the Board quickly approved increases to meal plans and housing costs. Each public meeting, however, is preceded by a private executive session, when trustees deliberate and determine their decisions, O'Connor said.
The Board would build trust if a student participated in these closed-door meetings, Capozzi said.
But to O'Connor, the privacy of executive sessions is necessary to maintain the Board's "efficacy" and the trustees' ability to make decisions on behalf of the university.
"One can't run out of an executive session, by definition, where a lot of interesting things are said in the public debate[sic] that would not be said in the public arena," O'Connor said. "That's how all universities work. We're not unique in executive session. It allows for free debate without incrimination so we reach the best result."
"As much as I would like everyone to be in the room and see, it doesn't work that way at any university, and it would be a mistake," he added. "Because what would happen during executive session is people wouldn't talk if they knew people were breaching it."
It is common for private university boards to have closed-door executive sessions, but some schools do allow a student trustee. Penn State, for example, annually elects a student to its Board of Trustees.
If a student became a trustee, O'Connor said, they wouldn't be able to broadcast conversations held during closed-door meetings out of a "duty of loyalty" to Temple. It's not stated in university bylaws that trustees are unable to relay what is said during executive sessions, Nadol said, but it's implied.
If elected, a student trustee would also need to consider the university as a whole, not just student concerns, as other trustees do, O'Connor said.
Considering these requirements, it would still be valuable to start working toward creating the position, Capozzi said. A non-TSG student on the Board would be a tangible way to bring student concerns' into the room with trustees, she added.
"A lot of students don't even know who the Board of Trustees are, what they do," she added. "It's important for them to know what's going on because this is affecting them. It's affecting their university."