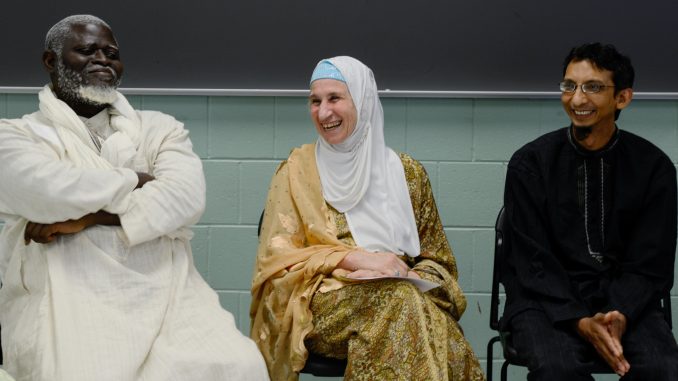 Philadelphia is the cradle of religious freedom, with the Bill of Rights being written here 224 years ago. Since then, the city's religious diversity has augmented, and Leonard Swidler, a religion professor at Temple, found the opportunity to use peace against religious conflicts when he came to the university 49 years ago.
With Temple's support, he opened the Dialogue Institute in 1978, a center on Main Campus that promotes intrareligious, interreligious and interideological dialogue around the world. The institute recently held a free workshop Sept. 17 at the Tuttleman Center, titled "Dialogue Across Difference: Skills for Peacemaking and Global Citizenship."
The workshop, which was in collaboration with this year's Global Philly, a month long initiative to help spread the reputation of Philadelphia as a global city, was hosted by Swidler and Rebecca Mays, the Dialogue Institute's executive director. It featured guests of many different cultures and religions coming from a wide variety of places like the Philadelphia suburbs, Quebec, London, Senegal and even a small island in the middle of the Indian Ocean.
"It was definitely enlightening," said Will Oughton, a sophomore computer science major who attended the workshop. "I got to meet people I would have never have gotten to meet anywhere else and experience different religions. Our differences make us similar."
The Dialogue Institute was founded as an extension of the peer-reviewed Journal of Ecumenical Studies, which Swidler and his late wife started to work on at Duquesne University in Pittsburgh. First published in 1964, it addresses dialogue between people of all different kinds of religions and is referred to from all over the world.
Swidler explained the genesis of the journal, and the institute, came from his time in Germany during the 1950s.
"I was doing research for my doctorate of dissertation on a dialogue that started in Germany after World War I that was between Catholics and Protestants," Swidler said. "So I had my foot in the door of intra-Christian dialogue. Then the Second Vatican Council happened just as I had finished the dissertation, and it didn't stop at Catholic and Protestant dialogue but went to dialogue with Jewish, Muslims and Atheists. When we returned to the U.S., we both got jobs teaching at Duquesne. The thought came to her that there was no scholarly journal devoted to dialogue among religions so we should start one."
Dialogue is the cooperative, constructive and positive interaction between people of different religious traditions and beliefs, he said.
"We began to do things to put into action the theories we were publishing in the scholarly journal," Swidler added. "So eventually I decided that we should create an institute that would have a formal name and do the stuff we were working on out of pocket."
Today, the institute has a budget of nearly one million dollars, which it uses to house 20 Middle Eastern and 20 Southeast Asian students every January and July, as well as hold workshops to help combat the differences between different religions. By working together peacefully in the group, individuals are able to find a common ground with each others: ideologies using dialogue.
The institute is looking to expand the number of staff in the near future and expand the understanding of dialogue in the community by hosting more workshops.
"The world has always needed dialogue, especially after 9/11," Swidler said. "Now the leaders of the world are recognizing that we need dialogue. Muslims are heavily involved in dialogue now—15 years ago you could count them out."
"We are looking to expand not only for the need of dialogue, but without it, we would destroy ourselves," he added.
Alex Capser can be reached at alexander.casper@temple.edu.