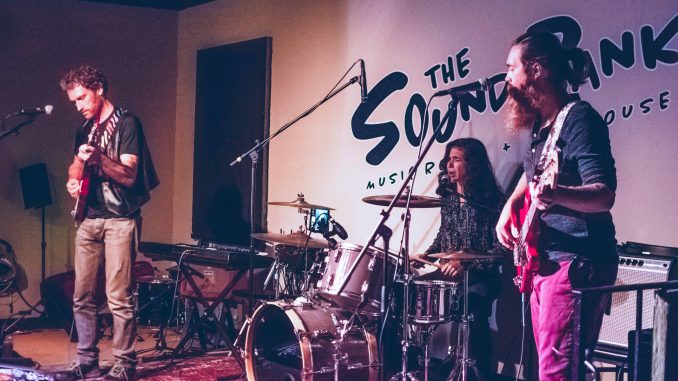 Nicole Bauza isn't one for small talk. She can't stand the surface-level niceties made only to uphold one's perfect image and instead opts to bare her soul in her songwriting.
"I've always been the type of person who has a hard time like, I don't know, hiding my true feelings," said Bauza, a 2010 film alumna and lead singer and drummer of Nervous Nikki and the Chill Pills. "I'm not good at just shoving it down and then taking it down there. It always ends up bubbling out somehow."
Tomorrow, Nervous Nikki and the Chill Pills will release the music video for "Day Off." The video, directed by Martin Krafft with help from Bauza's daughters, features footage from Bauza and her family's summer vacation and depicts Bauza fleeing her responsibilities for the day off she desperately needs.
Bauza's lyrics don't hold back; topics range from the frustrated resentment heard on "Let Me Get a Piece," to the band's latest single, which depicts her experience with burnout as a mother of two young girls.
Beneath Bauza's pleas for relaxation and the track's bubbly indie rock production, her children can be heard playing and calling for their mom on the single.
"I was sort of finding myself making my way into the adult world and wondering why I'm feeling so frazzled and stressed out," Bauza said. "Everything's coming at you so fast and also feeling pressured to not only be a parent but also do something with my life."
Bauza and her husband, Doug Boice, who plays guitar for the band, decided to have their kids — and their creative input — in the video to put the reality of their lives as parents on display.
"I think it's just very unapologetically who we are and where we are in our life right now," Boice said.
The band has drastically changed since it was first formed at an open mic night, as Boice and Bauza are the only founding members of the band to remain with the group. On their 2011 debut album, "Don't You Ever Wonder?," Bauza's lyrical delivery switched between rap and spoken word, with instrumental influences across the board blending sounds from early 2000s emo with soft rock.
Nathan Swavely, the band's bassist, joined the band after seeing Bauza and Boice perform at a virtual open mic in 2020. He immediately fell in love with their sound and reached out offering to play bass.
"People ask what genre we're in and it's such a weird fusion of hip-hop and folk rock and classic retro rock and rap and spoken word and all of this," Swavely said. "So it's so hard for me to explain it. So really, I just want more ears on this stuff because I know that there's people like me out there, who as soon as they hear it, it's going to connect with them.
The band picked back up in March 2021 when they put out "Takin a Breath," which was the band's first release in 10 years. In June 2022, they released "Watch the Petals Drop," a full-length album with sound ranging from serene folk on "Out of the Blue" to the forceful rock of "Let Me Get a Piece."
Bauza maintains careful control of the listener's emotions with her writing. On "Lao Tzu," from "Watch the Petals Drop," a panicked rap verse dissolves away to the song's laid-back chorus as Bauza takes a deep breath and the instrumentals shift from claustrophobic to beachy.
During the band's time, they have struggled to get their music heard, but after more than 10 years of making music, the band has seen success in the past year. Some of their songs were featured on WXPN radio station, which led to their selection for World Café Live's Beta Hi-Fi festival in July 2023.
"It's very hard as a little artist," Bauza said. "I mean, there's so many bands out with so much great music that definitely deserves to be heard. And so you're competing with a lot of really good voices out there."
Nervous Nikki and the Chill Pills plan to release more music early next year. The group is currently slated to perform at Attic Brewing on Nov. 18 and Kung Fu Necktie on Dec. 28.
"Just playing to a roomful of people who love the music, it's definitely one of the things that keeps us going," Bauza said.