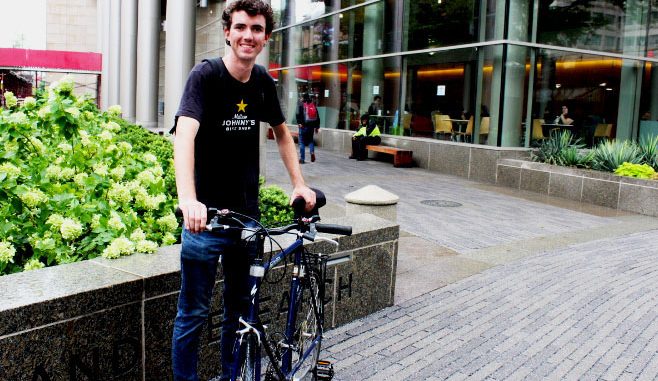 While cycling is often a large part of college campus culture, Glenn Eck knows that wasn't always the case at Temple University.

"When I came to Temple 20 years ago, we probably had three bike racks on the whole campus," said Eck, the associate director of grounds operations who commutes to Main Campus from Ambler every morning, usually on two wheels.

He also completed multiple cross-country rides in recent years, including a 30-day journey on the Trans-America Trail from Astoria, Oregon, to Yorktown, Virginia.

Bike Temple, a university-wide program that promotes cycling on campus and around Philadelphia, will hold two Urban Riding courses this week to help students learn how to safely navigate Philadelphia's streets on bikes and where to find the best biking spots in the city.  

"The course is centered around helping people navigate the city and helping people understand the bike infrastructure that's already present," said Ricky Coyne, a sophomore economics major and the coordinator of Bike Temple.

Participants of the Urban Riding courses will discuss topics like Philadelphia's bike lane infrastructure, how bikeriders should indicate traffic signals to others on the road and how to easily bike to Philadelphia's landmarks. The first course will be held at the Rad Dish Café on Tuesday at 6:00 p.m., and the second course will take place in the first-floor lounge at The Edge on Thursday at 6:00 p.m.

Bike Temple hosts other cycling events throughout the school year, including group bike rides and secondhand bike sales. Through these initiatives, Bike Temple is working to shift Temple students' attitudes toward biking in an urban environment.

"[It began as a] grassroots organization that brought together staff members, faculty members and students who were interested in making sure that Temple had a strong biking culture on its campus," said Kathleen Grady, the director of sustainability in the Office of Sustainability who has taught Urban Riding courses in the past.

Bike Temple started in 2009.

"It started off as a commuter initiative and just grew from there," Eck said.

Coyne has been an avid cyclist for as long as he can remember and worked in bike shops in his hometown of Freehold, New Jersey, for the last four years.

As he begins his leadership position with Bike Temple, Coyne has lots of ideas for what he hopes to accomplish with the organization.

"I've tried to put more emphasis on group rides," Coyne said. "If you don't have a bike and you aren't going to bring a bike, you're not going to be riding a bike. So we're trying to have more programming for people who are already interested in riding and want to ride more."

Bike Temple participants meet every Sunday morning at the Bell Tower to pedal to hotspot destinations like the Schuylkill River Trail and the Ben Franklin Bridge.

Each Urban Riding course lasts between 45 minutes and an hour, but Bike Temple aims to make cyclists feel more comfortable getting around Philadelphia in that time.

"Sometimes, folks are coming from outside urban areas and they might not know the rules of the road,"Grady said.

The ultimate goal of the Bike Temple program, Coyne said, is to create a community of cyclists and a more bike-friendly culture on campus.

"I try to encourage as many people as I can to ride," he added. "My hope is that people who come to our events will do the same."