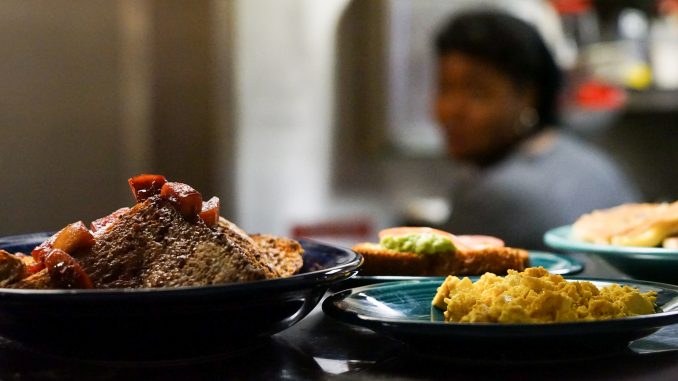 As a small business owner, Sarah Levine is always thinking about sustainability and how to support the local economy.
Levine, a 2010 marketing alumna, opened Luna Café in February 2015 on Market Street near 3rd. The cafe serves American-style breakfast and lunch items along with vegan and vegetarian options. Levine aims to support the Philadelphia economy by using fresh and locally sourced products.
Levine, who is originally from the Poconos, came to Philadelphia to study at Temple in 2006. She has always worked in restaurants and has been passionate about owning a restaurant that uses local resources and sustainability, which made her interested in marketing and business. Levine said she wanted to incorporate sustainability into her career.
"I love food, and I think Philadelphia is a great food city, and I wanted to open a business that contributed to all these different aspects of the city and life and everything that I'm passionate about," Levine said.
While finishing her master's in entrepreneurship at Drexel University in 2014, Levine came across the Old City shop — which was then for sale — and it seemed perfect for a cafe.
"I chose this location because it's small, intimate, has the cozy cafe feel and it is perfect for what we do," Levine said.
In Old City, Levine said she encounters a variety of customers: tourists, residents, local business owners, first-timers and regulars.
The shop currently serves breakfast and lunch with options like cinnamon apple french toast and quinoa bowls.
Levine added that she plans to modify her menu to include gluten-free options.
All of the cafe's meat, dairy and vegetable products come from farms less than a hundred miles from Philadelphia. Levine also tries to recycle and uses a wind-powered compost to recycle organic, decayable material.
"I think that society is set up backwards in that we don't make efforts to progress forward in a sustainable way," she said. "Sourcing from local farms means that I'm cutting down on fossil fuels and I'm cutting down on pesticides."
She admits that although it costs more to be a sustainable business, she thinks it's the right thing to do, because it helps cut down on waste.
Dina Adan, who came to the cafe with her husband, Charlie, and their two children, was a first-time customer at Luna. She said the restaurant felt "homey."
"We like that they use locally grown food," said Adan, who owns a restaurant in Florida with her husband. "We like that they boost the economy here. It's important for us."
Frank and Helen Rachubinski have lived in Old City for more than two years and have eaten at Luna regularly since then.
"It does help the local economy and I feel like more of it should stay in the area," Frank said.
"This cafe is exactly what I envisioned and I brought it to life," Levine said. "I think that if you're young and you want to do something, just go for it."
Ayooluwa Ariyo can be reached at ayooluwa.ariyo@temple.edu.