After the National Intercollegiate Women's Fencing Association Championships concluded on March 3, Temple's fencers sat down in a circle and each took turns saying what they appreciate about Safa Ibrahim.
Ibrahim, a senior epee, ranks as Temple's all-time winningest fencer with a 221-103 record. She won the epee title and earned All-NIWFA First-Team honors at the NIWFA Championships.
She showed her teammates the hard work it takes to have success and how to have fun while doing it, freshman epee Marielle Luke said.
"Everyone has their own ups and downs living every day," Ibrahim said. "I like to focus on the moment at hand and try to make the best of it. There will be bad days, but if you stay with it, you'll eventually have your good days. You just have to trust what you are doing and go for it."
Ibrahim said fencing has helped her prepare for her career. As the only senior on the team this year, she gained valuable leadership experience, she said.
The sociology major hopes to conduct international research into social issues, like drug use and environmental sustainability, after she graduates.
It would be a career path similar to her brother's. Ayyub Ibrahim, who graduated from Penn in 2016, does research for the Amman Center for Human Rights Studies, a non-governmental organization that advocates for democracy and human rights improvements in the Middle East and North Africa, Safa Ibrahim said.
"Doing research, one second you could be collaborating with a group, then the next you are by yourself doing your individual job," Safa Ibrahim said. "Fencing is the same way."
Becoming a leader was a process Safa Ibrahim started during her freshman year in 2014-15, she said. She focused on becoming a good teammate so she could build trust with the other fencers.
Coach Nikki Franke said Safa Ibrahim leads by example and her teammates can count on her to work hard.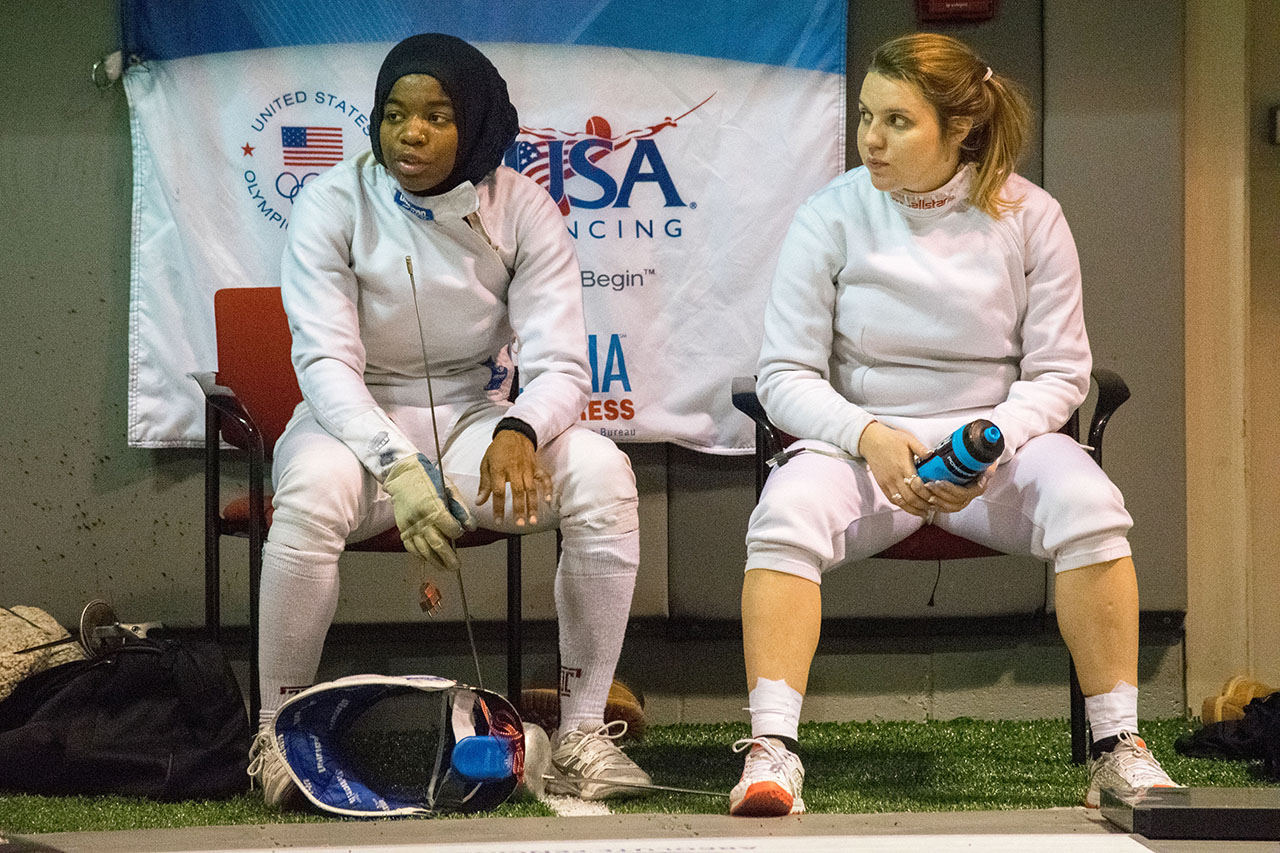 "There is no one like Safa," Luke said. "Everything she does has a purpose, but she does a good job keeping things fun. It could be the hardest drill or easiest drill, but I trust Safa will help make it fun for all of us."
"Safa is not only one of the best fencers I have coached, but one of the best people," Franke said. "She gets along so well with others. She's so kind, so genuine, so focused."
Ibrahim isn't one to be the center of attention, but because she is the team captain and the only graduating senior, sometimes she has no choice.
During Franke's closing remarks to the team after the Temple Invitational and Senior Day on Feb. 24 at McGonigle Hall, Ibrahim's teammates broke out into a "Safa" chant.
"My teammates make me feel really good," Ibrahim said. "It makes me really happy to know how much they care about me. It puts a smile on my face."
Ibrahim said it will be hard to leave the team once she graduates, and she will miss the friends she has made.
But just because she is graduating doesn't mean she will never return.
"I still want to be around this program," Ibrahim said. "I know how they treat alumni in this program. I will have opportunities to come back and visit. And I look forward to those times already."
Ibrahim plans to visit the annual Temple Open and Temple Invitational and stay in touch with Franke and her teammates.
"My team means so much to me," Ibrahim said. "I learned so much during my time at Temple. I don't like to think about me leaving, but when I eventually have to leave, I'll always carry what Temple and this program has taught me."