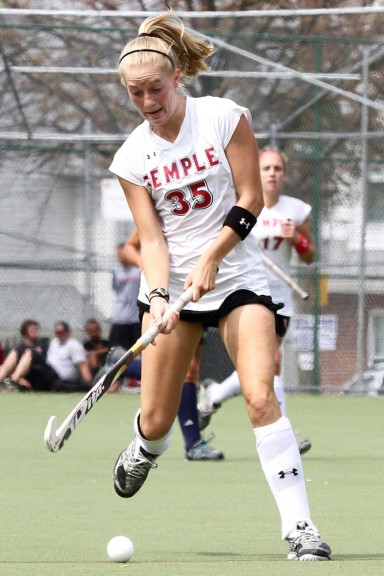 Work in the morning, classes during the day and practice afterward.
As a student-athlete, Katie Briglia had to learn how to deal with a hectic schedule, but it helped in the long run.
"I didn't love having a busy schedule, but looking back now, being that busy and that motivated and having something to do every day, it's what I do now," Briglia said. "It just became routine and you learn how to fit it in."
Briglia, a communications and BTMM major, played for the field hockey program from 2009 to 2012 and graduated from Temple in August. She is now living in Brooklyn, N.Y., where she works as a receptionist and administrative assistant for video production company 1st Ave Machine.
"It's a bit starting at the bottom and working my way up," Briglia said. "But it's very cool to see the marketing and advertising side of video production and how quick a pace that is. We're always working on something now, which is fun."
But after four years of learning how to balance classes, all the time spent on the field and even a job in Paley Library, Briglia said she was ready for life after college.
"It's a huge time commitment and I think that's what people kind of underestimate about student-athletes," Briglia said. "The time commitment is something that you have to work around and something that can be difficult when you feel like you have a million things to do, and on top of that you have to physically and mentally perform."
"You see what the girls are doing in the classes above you, you learn from example and you learn what works for you and what doesn't," Briglia added. "Personally, I wasn't the best at not cramming the night before, but I would get my work done on time and I knew if I had a game or had to travel that weekend, I would have to get it done ahead of time."
Despite the challenges, Briglia managed to excel on the field and in the classroom.
She made the Atlantic 10 Conference First Team three years in a row and did the same for the President's Honor Roll. She was also named to the Philadelphia Inquirer Academic All-Area Team in her senior season.
"She was excellent," coach Amanda Janney said. "She came from a good background in terms of her high school [Villa Maria Academy], but she worked really hard in the classroom, got great grades and really excelled in her communications major."
"It's one reason why [the team] really respected Katie," Janney added. "She made it look easy. She always had a positive attitude. They knew she was working hard off the field to make sure she got everything done."
However, she wasn't alone. Briglia said having teammates who were going through the same thing helped her along the way.
"Everybody helps each other when you're on the team," Briglia said. "Everybody has the same schedule, so I'll be writing a paper up late one night because it's due at 8 a.m. the next morning and we just got back from a game. Somebody else is probably doing the same thing."
Briglia also has the support of the alumni.
"I still stay in contact with girls that I played with," Briglia said. "The Temple field hockey alumni network is a very close-knit group, and it's comforting to know that if I ever needed something or if I saw that someone played field hockey at Temple, that I could go up to them and talk to them and they'd be willing to help me out and vice versa."
Before graduating, Briglia had an investigative reporting internship with NBC 10 during the Spring 2013 semester and an internship over the summer with Chernin Entertainment in Los Angeles. The internship was an experience Briglia said she believed helped her prepare for the real world.
"There were a lot of things about college that I wasn't ready to leave behind, but in a lot of ways I was very ready to move on from college," Briglia said. "Going out to Los Angeles for the summer was actually a great transition."
"Although I was still enrolled in Temple and taking classes and doing an internship, I was working out there," Briglia added. "It was a nice lead-in to working full-time and moving from school to the real world."
Coincidentally, Chernin was the production company that helped to get one of Briglia's favorite comedies, "New Girl," on air. Briglia said it's a show that resembles one she would like to work on someday.
"I always loved watching comedies and sitcoms on TV," Briglia said. "I would love to work in a field where I get to help create those comedies or help bring all the pieces together that go into making what you see on TV and what fans really enjoy."
"I think TV is something that everybody talks about," Briglia added. "It's a very common topic, and people enjoy it and get super invested in the characters. It's something that I think would be very fun to be a part of and that I hope to do in the future."
Nick Tricome can be reached at nick.tricome@temple.edu or on Twitter @itssnick215.