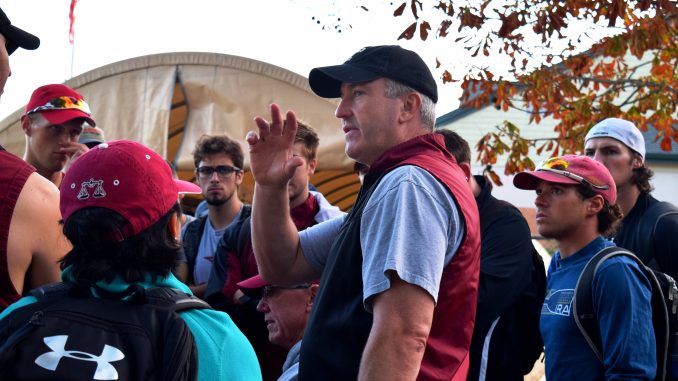 Four years ago, Temple University crew coach Brian Perkins could not have envisioned his team racing against championship caliber programs.
On Wednesday, that opportunity came to be as Temple drew 2018 Intercollegiate Rowing Association Regatta Heavyweight Varsity Eight champion Yale University for its first race at the the Henley Royal Regatta in England.
"A few years ago, we did not have the right to get into the water with a crew like Yale," Perkins said. "This year was totally different. We put together a great season and earned the chance to be at an event like this. It was unlucky we drew such a high-level crew right out the gate, but it still was a great day for our program."
The Owls lost the 2,112-meter race in Henley-on-Thames, England, to the Bulldogs by two and a half lengths after a close race in the early stages, Perkins said.
Temple was one of 55 entries to The Temple Challenge Cup. The bracket was filled with colleges from the United States, England, Ireland and Norway among other European countries. Qualification races took place in late June to reduce the field to 32 teams. Yale was one of the programs Perkins would have preferred to race in a later round.
"There were five teams I would have liked to avoid in our first round to give us the best chance to advance," Perkins said. "But once we heard we would race Yale, we got excited for the opportunity. Our men gave a great effort at such a historic event, so I can be happy with that."
Perkins would have liked to get a chance to participate in multiple races. But because the Henley Regatta is a single-elimination event, the loss to Yale ended Temple's season.
With the early elimination comes added leisure time for Perkins and the athletes in England. It is seen as a "vacation the team didn't want," Perkins said. The Owls plan to enjoy nearby London and watch races on the River Thames until they leave for home on Monday.
The Owls have been eliminated as a team, but senior Sebastian Devereux will race in the finals for the Queen Mother Challenge Cup on Sunday just before 11 a.m. Eastern Standard Time.
Perkins' goal for the program is to be return to England in two years for the Henley Regatta. He believes the program will be more experienced and advance further in the competition with a luckier draw.
"Now all we can do is soak this experience in and have fun with it," Perkins said. "By going around and enjoying a foreign country, our team won't be wide-eyed tourists when we come back in a couple years, but rather a team with experience at this event ready to compete for multiple days."
Temple's crew program will graduate eight seniors and a graduate student after this season. The returning athletes are expected to be even better next season after this experience, Perkins said.
"I can see a huge increase of work ethic and talent next season," Perkins said. "Knowing that this sport can take you to places like England and a historic event such as the Henley Regatta can change the way you approach things. I expect these men to train hard during the offseason and come back better to elevate this program's performance."
"The biggest thing I'm happy about is that we got here," senior Tyler Baldo told OwlSports. "We've faced a lot this season. These guys have been so resilient. I wouldn't want to be anywhere, especially as a senior. But, also for the program, this is such growth and you can really see the results of it."