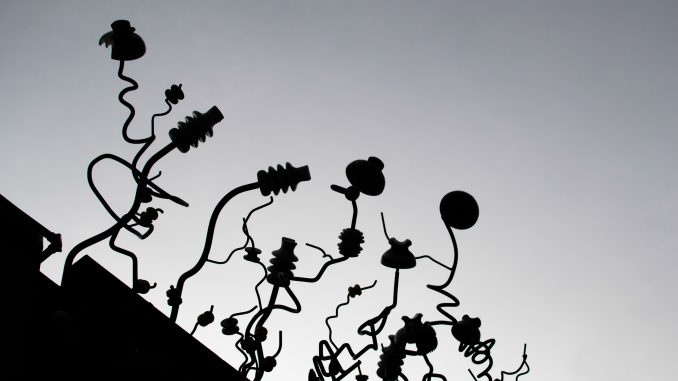 In the '80s, hundreds of people clocked in and out of factories like the Jack Frost sugar refinery, Schmidt's and Burk Bros. These employees walked around the streets of what's now known as Northern Liberties, passing other blue-collar workers with metal lunch boxes in hand. 
Then those factories began to shut down.
Today, many young people in thick-rimmed glasses and flannel flock to the same neighborhood that once was comprised of factory workers.
They attend the seasonal 104.5 Summer Block Parties, dine at quirky burger joints like PYT and peruse records at a handful of shops.
On Thursday, the Philadelphia History Museum will begin showing an exhibit on the transformation of Northern Liberties called "Northern Liberties: From World's Workshop to Hipster Mecca and the People in Between."
A resident of the neighborhood since the 1970s, Northern Liberties-based artist Jennifer Baker decided to curate the exhibit after decades of observations.
"When I moved in the neighborhood, it was bleak," Baker said. "I've always just observed the changes and wondered about why these changes are taking place, like the demolishings and fires, and then at some point people started building. Good things like nice coffee shops came, but artists have been moved out because of high prices. They were pushed to Fishtown and Kensington. I was curious about the economic changes and very dramatic change."
Baker said she wants Philadelphians to see what Northern Liberties once was and compare it to what it is now. Asking residents for old photographs, videos, artifacts and more, Baker helped create an exhibit that was put together from old and new residents and their belongings.
Charles Croce, the executive director at the museum, said the exhibit is mostly made up of material culture, or three-dimensional artifacts that people have actually used.
"You are seeing first-person accounts and objects that come from people's homes," Croce said. "Philadelphia is very much a workshop of the world, and this city made everything from beer to chocolates to boats [and] locomotives – it was a very industrial city, and Northern Liberties showcases that. A unique thing is that the things aren't from our collection but from residents."
Baker gathered video interviews from older residents of the neighborhood, which ended up being so long that she had to cut the length of some responses dramatically. However, Baker said it was at this point when she realized she couldn't do all the editing and work herself. That's when she reached out to Temple.
Baker sent an email to a Temple listserv, to which journalism students Gerry Senker and Michael Kitay responded. Recent Temple graduate Tina Lam joined as well.
"I've just enjoyed watching the interviews and getting to hear all these great stories," Kitay said. "I would say the worst part has been when we initially learned that we had to transfer all the beta tapes to digital. [Baker] put in most of the legwork there, it took a while because we had around 15 hours of footage."
Despite Northern Liberties being described as a "hipster mecca" in the exhibition, not everybody involved in the project, and neighborhood, agreed.
"Hipster, no," Lam said. "But changing its neighborhood's way which the elderly might not enjoy? Yes. The high demand to be here is probably overwhelming for past residents. NoLibs is my go-to place if I want a fun night out. El Camino and PYT are my favorite. The vibe there is relaxing, so many types of eclectic people. I'm glad this neighborhood is up-and-coming because Philly could always use more thrill."
Rob Knelly, manager of PYT located in The Piazza at Schmidts in Northern Liberties, shared the same sentiment as Lam.
"For a while, a few years ago there was a huge lie where people referred to it as a hipster kind of place," Kmelly said. "It's pretty far from the truth. I wouldn't describe it as hipster myself."
Baker said she remembers the time when artists and longtime residents were being pushed out of the area. Artists had difficulty finding jobs there, so they moved to places like Fishtown and Kensington.
Senker, who attended Temple in the 1970s, said he's seen both sides of Northern Liberties.
"My family had a print shop in Kensington [at A and Clearfield streets] from 1958 to 1978," Senker said. "We were going back and forth from Kensington to Center City all the time. I never thought of it as 'Northern Liberties.' To me, it was just another part of North Philly. The neighborhood was pretty bleak in the '70s. If you would have told me then how the neighborhood was going to change, I would have said, 'Dream on.'"
Once the older, artist-filled generation was pushed out, a younger crowd with more money started to come in.
Despite how new he is to Philadelphia and his lack of experience in Northern Liberties, Kitay said he sees that the cost of living has driven the older generation.
"I would describe it as new age growing out of old," Kitay said.
David Rodan, a mechanic at Via Bicycle at 9th and South streets, said he's seen the hipster movement move from South Street to Northern Liberties.
"I think the whole South Street being pushed from hipster is an accurate assessment," Rodan said. "Hipsters anchored themselves in the north, now that demographic likes to hang out here. South Street has become much more Main Street."
Regardless of the demographics, Croce said he's excited to start showcasing Northern Liberties as one of Philadelphia's prominent neighborhoods.
"I think the thing that stands out the most is that it is one of Philadelphia's 74 neighborhoods," Croce said. "It's a city that is made of neighborhoods, and this is a very particular historical neighborhood, and it continues to be. This is the first neighborhood we have really showcased."
"Northern Liberties: From World's Workshop to Hipster Mecca and the People in Between" will be on view until Aug. 31. Baker said she's expecting it to draw in a large number of Northern Liberties residents, old and new, because of the contributions from their neighbors. Baker also said she's hoping for other Philadelphians to take interest in the past and present of the neighborhood.
Chelsea Finn can be reached at chelsea.finn@temple.edu.