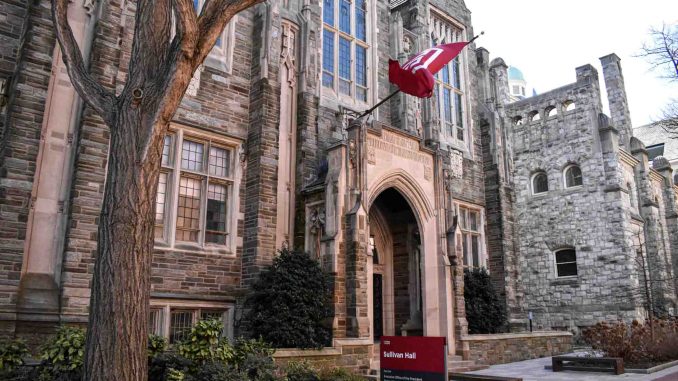 As Temple grapples with a graduate student union strike and multiple safety incidents around Main Campus in recent weeks, some are questioning the university's communication methods with students and the media.
President Jason Wingard has yet to comment on the ongoing Temple University Graduate Students' Association's strike, nearly a month after union members began picketing. He also maintains his stance in interviews that gun violence is a national issue, rather than just a Temple issue.
Wingard has cited city and national trends in gun violence as causes for Temple's safety issues, including the death of Temple University Police Sgt. Christopher Fitzgerald, who was fatally shot at 17th Street near Montgomery Avenue on Feb. 18.
In a Feb. 22 interview with NBC10 Philadelphia, Wingard said he does not know what specifically the university needs to address safety concerns.
"If you ask the question, 'What should Temple University be doing to keep their students safe who live in Philadelphia?' I don't have the answer to that," Wingard said in the interview.

Wingard also said in the interview that the university has allocated funding to campus safety initiatives but faces an officer shortage and a national gun violence problem.
"What we are doing at Temple University, extending as many resources as we have to this problem, is not enough," Wingard said. "So moving forward, we have to collaborate, we have to partner with the state, we have to partner with the city, we have to partner with corporations and the community, bringing them together for real solutions."
Scott Gratson, director of communication studies at Klein College of Media and Communication, believes that the university needs more transparency around messaging to students.
"It's more of really hearing legitimate concerns, acknowledging those concerns and acting on everyone's well-being through communication," Gratson said. "I think that could become more direct, more outright and in a more sincere fashion."
Gratson said that there should be a stronger concerted effort to highlight what Temple students are going through, including the good, the bad and the indifferent. He also believes that Wingard needs to focus more on direct communication, and less on taking photos.
"Photographs aren't messages," Gratson said. "What we need to have is much more of a focus on directly relating to talking with students. And having President Wingard is supposed to represent the student body, where is that voice in understanding the student body?"
The university handles messaging to the media and to students on a case by case basis, said Stephen Orbanek, a university spokesperson. Last week, due to the high volume of inquiries, the university created a Campus Safety Media webpage where they proactively provide updates for media consumption, he added.
Wingard's silence on the strike is customary, Orbanek said. Typically, messages related to employees are handled by Ken Kaiser, the senior vice president and chief operating officer.
TUGSA's strike has received coverage from national outlets, including The Washington Post, NPR and CNN.
The university has been criticized by multiple politicians for their decision to cancel striking members' health care packages, which some experts believe was an extreme move at this point in the strike.
As the university has gained more attention, so have social media accounts that criticize the university and its administration.
TUGSA has used social media to share details of the university's actions against the union, and information regarding strikes and press conferences.
Keep Us Safe TU, a student-run group that posts about campus safety issues, has gained more than 9,000 followers and criticized the university's campus safety communication methods and Temple's administration.
"I'm familiar with a zillion different Reddit accounts and Keep Us Safe accounts that are happening," Gratson said. "All of that I think does need to be addressed."
A lack of direct communication is giving more power to these social media accounts that post about campus safety, Gratson said. There needs to be much more open discussion around both TUGSA and undergraduate concerns, he added.
"I think we need to remember that we're all Temple, and I think that we need to also keep in mind that these are students with very legitimate concerns," Gratson said. "It's not something to just brush over and say, 'oh, everything's fine here.' And there's been an awful lot of feeling like everything's fine here."