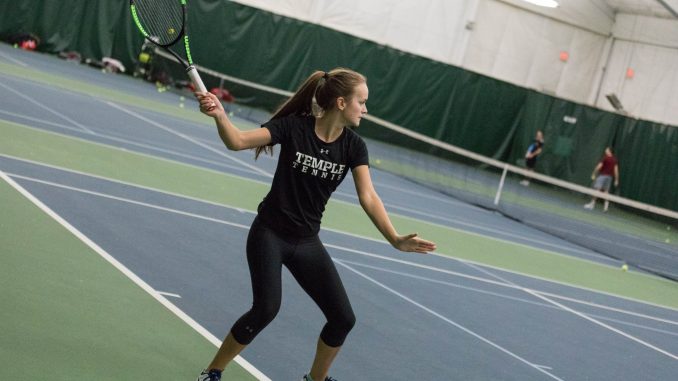 When Kristina Titova was a high school freshman, she attended a large business event at a Hilton Hotel near her hometown of Novosibirsk in Russia's Siberian region.
At the event, people discussed how to run a business in the United States. When they talked about the hotel business, Titova immediately became intrigued.
"I went there to listen to some people talking about America and companies in America, and I really liked it," Titova said. "I liked business, and I liked the way they were explaining things about hotels."
The sophomore tennis player and business management major hopes to one day open her own hotel in Italy. Although Titova travels often, she has never been to Italy. She thinks it is a beautiful country, and therefore a great place to open a hotel.
Her mother, Evgenia, has a similar dream, hoping to one day open her own bakery in Italy.
Titova's mother is one of her biggest supporters, she said. She also gets support from her childhood friends in Russia, despite the 11-hour time difference between her hometown and the East Coast.
Before she pursues opening a hotel, Titova is focused on her studies. She hopes to earn her master's degree and then possibly her Ph.D.
Titova is in her first year at Temple after transferring from Hampton University in Virginia. She played in the Pirates' top singles position and posted an 11-5 record in Spring 2017.
She was inspired to come to Temple because of its tennis program and the Fox School of Business's reputation, she said.
She believes what she has learned in her finance classes will prepare her for the future. Titova hasn't taken any international business classes yet, she said, but she thinks they'll also help.
In addition to what she has learned off the court, Titova believes she can transfer the lessons she learned on the court into the business world.
There are three specific values tennis has enforced that she'll need in business: consistency, patience and knowledge, she said.
"In tennis, you need to play patiently and smartly," Titova added. "Those are the two most important things."
Titova is one of the Owls' best players this season. She usually competes as the No. 2 player in singles. This year, Titova has a 5-4 singles record. Her latest win came against University of Delaware senior Amanda Studnicki on March 16.
Titova is currently battling injuries, which kept her out for the team's latest match on Friday against La Salle, coach Steve Mauro said. But the team hopes to have her back soon for the American Athletic Conference tournament from April 18-21 in Dallas.
After losing her first two singles matches of the spring, Titova won her next four decisions.
"She's a very determined player, and her work ethic is very good on the court," Mauro said. "I could see her have that same tenacity in the business world. I can definitely see that carrying over later in life."