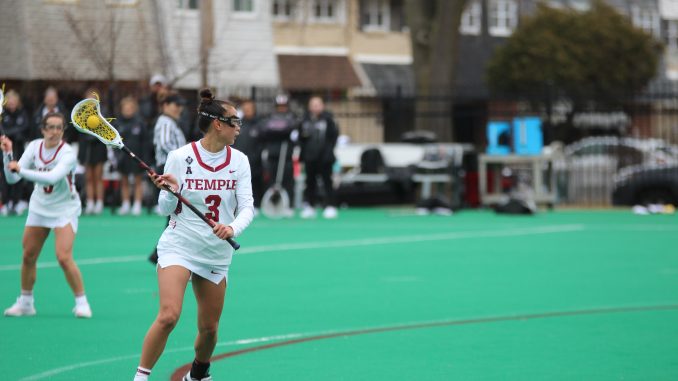 Temple Lacrosse (4-2, 0-0 American Athletic Conference) defeated Marist University (2-3, 0-0 Metro Atlantic Athletic Conference) 14-10 Wednesday evening at Tenney Stadium. Temple's ability to dominate the time of possession through draw controls led to its offensive success and helped hold off Marist's second-half comeback to win its second-straight game.
KEY PLAYS
Temple midfielder Maeve Tobin scored a goal just one minute and 16 seconds into the matchup. She then scored her second goal, giving the Owls a 2-1 lead just under three minutes later.
Midfielder Belle Mastropietro added a cushion to the Owls' lead with back-to-back goals one minute and 23 seconds apart, giving Temple a 6-1 lead.
Marist continued to fight back as after winning a draw control, midfielder Delaney Hayes broke a nearly 20-minute-long drought, cutting Temple's lead to 7-2.
Following Hayes' goal, Temple answered with three-straight goals coming from Tobin, and attackers Mackenzie Roth and Julie Schickling to extend the Owls' lead to 10-2.
Marist scored four goals in the final seven minutes of the fourth quarter with two from attacker Kerri Gutenberger, and the other two from attacker Kelly Trotta and Hayes which cut the lead to 14-10, but it was too late for the Red Foxes to complete the comeback.
THE NUMBERS
Mastropietro broke Temple Lacrosse's all-time draw control record with her 237th of her career.
Temple earned assists on four of their goals, while Marist assisted on six of their ten goals.
Mastopietro's three goals were good for her second-straight game with a hat trick, and a team-high 21 goals on the year.
ON TAP
The Owls will travel back to North Broad to take on the University of Maryland, Baltimore County (4-2, 0-0 Atlantic East Conference) on March 11 at 12 p.m.