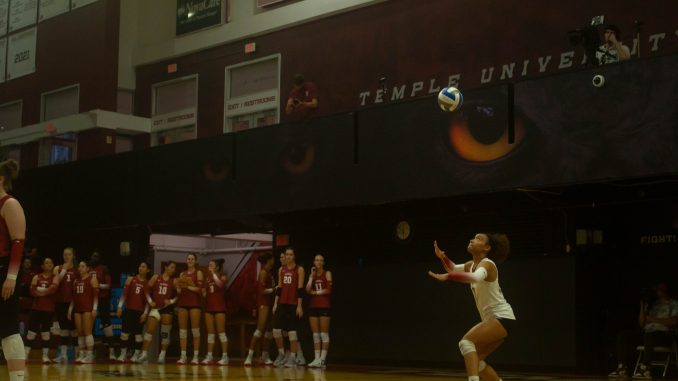 Temple Volleyball (11-4, 2-2 American Athletic Conference) defeated Tulane (4-12, 0-4 American Athletic Conference) 3-2 Friday at McGonigle Hall to get back to .500 in conference play. The win kept Temple within striking distance of the top of the AAC standings early in the season.
The Owls struggled to open the game, but key plays throughout the beginning sets ignited them to a five-set victory against the Green Wave.
"We can either be pissed off that we're here or really be excited about being here," said second-year head coach Linda Hampton-Keith. "We thought we felt pretty good and came out strong, and we did. I'm really, really proud of how we responded in that last set."
Tulane started the first set with a 15-9 lead before the first media timeout. Out of the break, Temple seemed to find a groove but could not stop Tulane from finding the floor. After Temple lost a challenge, Tulane closed out set one 25-17 with a kill from the back row.
Temple opened set two on a better note. Tulane committed multiple errors, and the score was tied at 11 midway through the second set. Temple gained rhythm, closing the second set at 25-17 tying the match 1-1.
Despite its momentum from winning the second set, Temple started set three slowly. The Owls didn't get to the floor when Tulane attacked and struggled to find their correct blocking assignments when needed.
Tulane jumped to a 7-3 lead, but Temple battled back. Temple middle blocker Chelci Banks ignited her team's offense with one block and three kills in a 12-3 run. Banks' energy on the court pushed Temple to an 18-13 lead, and the Owls closed out set three with an ace from outside hitter Taylor Davenport to win the third set 25-19, taking a 2-1 lead.
Banks had a career-high 14 kills against Tulane. She played a key role up front, earning six of Temple's 12 blocks.
"This win felt super good," Banks said. "I think I definitely hype my team up a lot. It's definitely a big factor about myself that I really like because I'm able to provide for other people. We're going to be the first to do anything, put the gas on the pedal and not lift up for anything."
Tulane did not back down in the fourth set and outscored Temple 6-3 to tie the set at 10. Temple couldn't find the floor against Tulane's blockers and dropped the fourth set 25-19.
With the pressure of a fifth set, Temple came out composed and confident. The Owls had three blocks in the set, but Tulane crawled back from an 8-2 deficit to cut Temple's lead to two points. Temple found a way to close out the set, and libero Nalani McBride finished the game with an ace as Temple took the fifth set 15-9 and the game 3-2.
The energy on the floor was really important for Temple to take the win, and Banks helped rally the team when it was possibly falling out of their favor.
"Her competitiveness and fight and just overall going after it really hard was worth a lot of points for us," Hampton-Keith said. "I think it kind of spread too and it really helps our team out and it has to be more fun to watch, right?"
The Owls will play their next match on the road at Wichita State (8-5, 2-1 American Athletic Conference) Oct. 6 at 7 p.m.