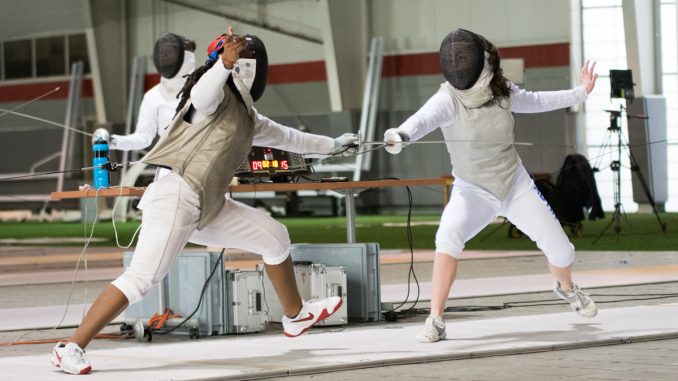 Temple University fencing faced off against three top-10 schools ranked by CollegeFencing360.com Women's Coaches Poll at the Penn State Invitational on Sunday.

The Owls finished 3-2, only losing to Columbia University and Penn State by a score of 19-8. Columbia finished last season ranked No. 1 while Penn State finished No. 4 in the poll.

"Both of those programs are very strong," coach Nikki Franke said. "We weren't able to hang close with them. They got an early lead and it was difficult to try to catch up."

However, the Owls defeated Yale University 14-13. Yale finished last season ranked No. 9. The sabre squad finished 7-2 against Yale with senior Blessing Olaode and sophomore Eva Hinds earning two wins each.

"It was very nice to win that match," Franke said. "It came down to the last bout. It just showed our toughness and perseverance. We split with them last year, so it was really good to get that win."

Temple's other wins came against Duke University and Haverford College. Temple defeated Haverford College, 25-2, to start off the competition. The sabre squad finished 9-0 while the foil and epee squads went 8-1 against Haverford. Senior sabre Jessica Rockford recorded three wins against Haverford and finished 5-0 overall.

Temple also defeated Duke, 15-12. Rockford's win against Duke gave the sabre squad a 5-4 win.

"It's always good when someone goes undefeated," Franke said. "[Rockford] won a key bout for us. It's always good for their confidence to have a good day like that."

Temple's foil squad defeated Duke, 6-3. Freshman foil Aryana Abtin posted three wins against Duke. Abtin finished with a 9-4 record on the day.

Temple will compete in another dual meet on Sunday at the Philadelphia Invitational, hosted by Penn, against the Quakers, Northwestern University, the University of North Carolina, the University of Notre Dame and Ohio State University.

After competing in the Penn State Invitational, the team will be better prepared to fence against top-10 teams, Franke said.

"They know what they need to do," Franke said. "It's going to be another very difficult one with a lot of top-10 teams. Now, they know what it's like having a long, grueling day. Hopefully, we'll be prepared."