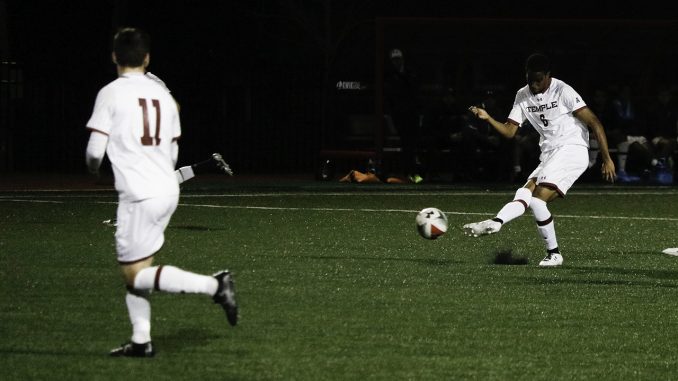 As the end of the first half neared on Friday, the Owls were fatigued. When Virginia Commonwealth University threw the ball in, Temple made a "tired decision," coach Brian Rowland said.

In the 42nd minute, a yellow card from junior midfielder Zach Brown set up a penalty kick for the Rams. Virginia Commonwealth junior midfielder Siad Haji pounced on the opportunity and scored.

Despite opportunities from six second-half shots, Temple University (0-2) lost, 1-0, to Virginia Commonwealth in Richmond, Virginia.

"It was an unfortunate play that sort of gifted them a goal," Rowland said. "But I certainly felt that there were a lot of things we could grow from and take as real positives as we move forward."

Temple ended the night with 13 shots, two of which were on goal. In Temple's previous game against the University of Maryland, Baltimore County, the Owls registered just six shots with two on goal.

"The first thing for us was to create more chances so that we can be more attack-minded and play in the other team's box and half more," Rowland said. "I think we did, and I think that we saw a lot more opportunities come from that. I think now, we just have to show the ability to finish those chances."

Seven Temple players recorded at least one shot on Friday. Senior midfielder Hermann Doerner led the pack with four shots. Juniors midfielder Leandros Lillis and forward Lukas Fernandes both ended the night with two shots.

On the other end, Temple held Virginia Commonwealth, a team that made an appearance in the NCAA tournament last season, to eight shots, two of which were on target. Junior goalkeeper Simon Lefebvre made one save.

Rowland also noted the team's progress in working as a cohesive unit and understanding the style of play he promotes, which is fast-paced and offensive. This comes as a hefty task, as the Owls welcomed 17 new players onto their roster this season.

"I believe we have really good players, and I think sometimes, it's just getting them together and getting them into a real game situation where you can start to see some of the connections come together," Rowland said.

Next, the Owls continue their streak of away games with a match against Old Dominion University on Sunday. Old Dominion is ranked No. 25 in the NCAA Division I United Soccer Coaches Poll.