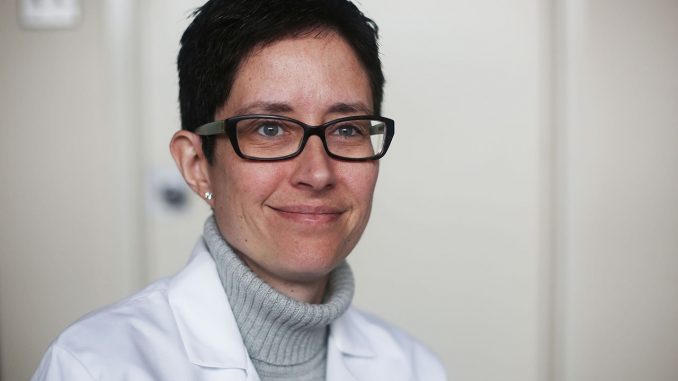 Temple University Hospital received its second $500,000 grant from the state to continue its Temple/Wedge Center of Excellence, which treats pregnant women who have opioid use disorder.
The center offers mental health services, prenatal care, pain management and substance use disorder treatment. It is one of about 50 in the state that was created last year to address the opioid crisis, and one of the few created specifically for pregnant women.
TUH doctors that specialize in high-risk pregnancies and addiction medicine partnered with clinicians from the Wedge Recovery Center, a facility for mental health and drug and alcohol treatment, to create the Temple/Wedge Center in January 2017. At that time, the state gave the center the initial grant.
Patients see doctors for evaluation at both Temple Hospital, located at 3401 N. Broad St. and at the Wedge Recovery Center's multiple locations in North Philadelphia.
"We applied for the grant initially because we felt that there was a need for treatment of opioid-dependent women in North Philadelphia," said Dr. Laura Hart, an obstetrics, gynecology and reproductive science professor and the center's medical director. "There really was a lack of resources, especially for pregnant women."
Pregnant women with substance use disorder have been underserved in general, as there aren't many treatment options available for them, said Mary Morrison, a psychiatry and behavioral science professor and the center's director of psychiatry.
When it first opened, only one to three women came to the center per month, but the number of patients has increased to eight to 10 because of increased referrals from primary care physicians and insurance companies, as well as word of mouth, said Tamara Tatevosian, the project manager for the Temple/Wedge Center.
"When it first took off, there were very few women who were coming to the center," Tatevosian said. "It kind of fluctuates a bit, but it has definitely expanded with a lot of new referrals."
When a pregnant woman first visits the center, she is screened by psychiatrists to assess her mental health needs. Doctors also assess the woman's general health and the condition of the fetus. Additionally, the woman receives individual and group therapy if she meets certain criteria for depression or trauma.
Doctors at the center use buprenorphine, a medication that helps reduce opioid withdrawal symptoms and decrease cravings for opioids by blocking and stimulating opioid receptors in the brain.
The center's buprenorphine treatment plan helps stabilize its patients physically and emotionally, while also reducing the chance of neonatal abstinence syndrome, which is when a newborn experiences withdrawal after its mother uses opioids during her pregnancy.
"While on buprenorphine, [the women] aren't searching around for heroin and doing whatever they need to do to get it," Morrison said. "They're eating better, they're sleeping better, all of which are better for their fetus and eventual baby."
The Temple/Wedge Center also works with the Maternity Care Coalition, a community outreach program that provides support to mothers and families from neighborhoods with high rates of poverty, infant mortality and health disparities.
Each woman is paired with a community advocate from the coalition, who helps them through the treatment process and works with them until 30 days after she gives birth.
"They're really great because if a woman has stopped engaging in treatment, and this has happened a few times, [the advocate] reintegrates the woman back into treatment," Tatevosian said. "Usually the woman usually comes back to treatment so she can keep getting all of the support she needs."
The community advocates are in daily contact with the women, and they encourage them to come to the center for treatment and care, Hart said.
"I think that they're good at trying to get the women's lives back together, which is really the primary goal of treatment, and they make a big difference," she added.
The Temple/Wedge Center recently started working with insurance companies like Keystone First to help identify pregnant women with opioid addiction and refer them to the center, Hart said.
It also started working with prisons in the Philadelphia area, like the women's institution Riverside Correctional Facility. This was in response to a recommendation from the mayor's task force for the Philadelphia Prison System to provide substance use disorder assessment and treatment to all arrestees and sentenced prisoners.
Previously, men and women who entered the prison system were refused treatment for addiction unless they were already enrolled in a treatment program, Hart said.
"Now that that's becoming a standard of care to treat them, we're working with them to get women into our care after they're released," she added.
Hart and Morrison agreed that society should provide more access to addiction prevention, treatment and education.
"There's so much more we could be doing," Morrison said. "What we are doing in Philadelphia is a lot of prevention, and we're talking to prescribers a lot more in limiting the length of opioid prescriptions, but in terms of getting people into treatment…I think we could be doing a lot more."