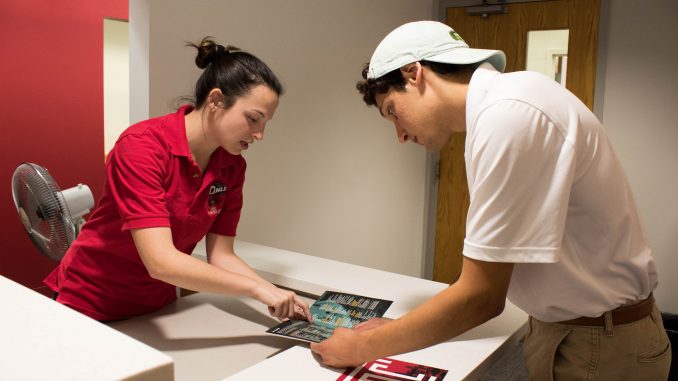 Before junior economics major Zachary Heisey transferred to Temple from Delaware County Community College in December 2015, he carefully prepared to assure that his credits would transfer properly and that he was choosing the right school.
Heisey said Temple accepted nearly every credit he earned at his community college, but not every credit counted toward his major.
"Just because they transfer doesn't mean they count towards your major, which could be very confusing," Heisey said.
Heisey "self-advised" through the transfer process, constantly researching how he could make the best transition to Temple.
"Because I was proactive about coming to Temple, I think it was a good transition," he said. "The information is out there, you just have to be willing to get it."
Many students transfer to Temple from community colleges or other universities, but not every student has the same experience as Heisey. What is Temple's transfer population, and are transfer students able to succeed once they arrive on campus?
TEMPLE'S TRANSFER POPULATION
For the 2017-18 academic year, there are 3,400 transfer students enrolled and 450 students who are participating in dual-admissions programs. The programs require students commit to Temple at the same time they commit to community college.
Temple has 11 dual-admissions agreements and 17 "Gen-Ed to Gen-Ed" agreements with regional colleges, like Community College of Philadelphia, Bucks County Community College, Montgomery County Community College and most recently, Manor College, which is a two-year Catholic college in Jenkintown, Pennsylvania.
"They're popular and accessible programs as students make important planning decisions in their college career," said Director of Undergraduate Admissions Karin Mormando. "It's an advantage to students to get that head start in their college career."
Transfer students with a GPA of 3.3 or higher are also eligible for scholarships when they transfer, and every year after as long as they maintain their GPA.
"Temple is our number-one transfer institution by far," said Jennifer Roberts, associate vice president for academic and student success at CCP.
"We have had dual-admissions agreements with Temple since 1998," she added.  "We have heard very positive things about the students that go to Temple, and we work together to increase student success."
CCP has had 1,237 students transfer to Temple since 2012, with 399 transfer students enrolled in Fall 2016. On average, about 300 students per year transfer from CCP to Temple.
THE TRANSFER PROCESS
In order to transfer through the dual-admissions program, students must enroll at Temple before they complete 30 credits at community college. Students can officially transfer when they earn their associate's degrees.
Gen-Ed to Gen-Ed programs evaluate the General Education Program requirements from a student's associate's degree to determine if it will replace Gen-Ed requirements at Temple. Program-to-program agreements guide students to which classes they should be taking for their associate's degree in order to prepare themselves to earn a bachelor's degree from Temple.
Once students fulfill these requirements and are evaluated by the university, they can begin finishing their bachelor's degree requirements and transfer to Temple.
DUAL-ADMISSIONS AGREEMENTS
The dual-admissions agreements are good alternatives for students who are making community college their first stop, Mormando said.
Students, depending on their needs, will focus on their major requirements after transferring.
Many students go through one of these agreements during their transfer processes. They must have a C average or higher for the credits to transfer, and most courses will transfer over to Temple. Essentially, students must have an understanding of which courses will be accepted for their specific majors.
Mormando added that students mainly utilize these programs for financial reasons, and that these resources are available to make the process a positive one.
"Local community colleges know us very well," Mormando said. "We have those great relationships with partners."

STUDENT SUCCESS AFTER TRANSFERRING
One of the largest issues transfer students face is that sometimes, the credits they paid for at community college don't count toward their bachelor's degrees from Temple.
Junior secondary education major Abigail Oestreich said she struggled to adjust at first, but has become accustomed to Temple's environment since transferring in Fall 2016.
"There is a lot of responsibility on the students [when transferring]," she added. "I'm doing pretty well in school. It took me a while to adjust as a commuter student."
"I chose Temple because of their agreement with Bucks so my credits were easier to transfer, but some of them didn't transfer, which is frustrating," Oestreich said. "I did my associate's in one year so I should be a year ahead, but it didn't transfer. Now, I have a bunch of credits I don't need for anything."
Oestreich said that she was told halfway through completing her quantitative literacy course at Temple that she had already fulfilled the Gen-Ed at her previous school.
Overall, she said her transfer experience was "decent."
"The transfer population is significant," Mormando said. "I understand the choices they're making, and we try to make that process as seamless as possible as they take their next step."