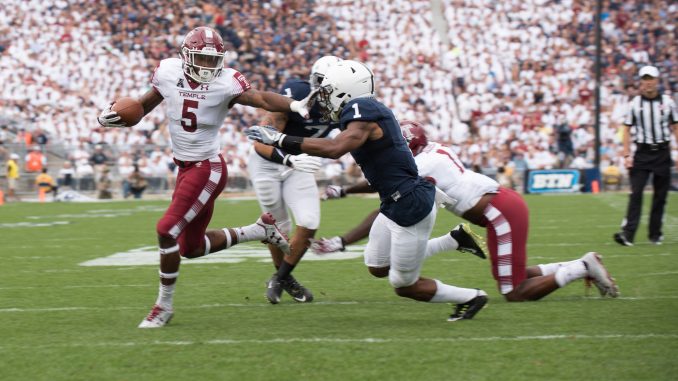 As Jahad Thomas has gone through the NFL pre-draft process during the past three months, he has heard himself compared to several different NFL running backs.
The list includes Philadelphia Eagles' back and return man Darren Sproles, LeSean McCoy of the Buffalo Bills and Tyreek Hill of the Kansas City Chiefs.
The one name he's heard the most is New England Patriots' running back James White.
"I heard that a lot because obviously he's co-MVP of the Super Bowl," Thomas said. "And he did a lot of great things in the game, creating match-ups, catching balls out of the backfield."
White ran the ball six times for 29 yards and two touchdowns in the Patriots' Super Bowl win. He also caught 14 passes for 110 yards and a touchdown. White also scored on a two-point conversion to cut New England's deficit to 10 with five minutes, 56 seconds left in the fourth quarter.
Thomas ran for 2,599 yards and caught 69 passes for 998 yards in his Temple career. He also combined for more than 1,100 punt and kick return yards.
NFL personnel have told Thomas they like his ability to be a playmaker in multiple ways on the field like White.
After a brief switch to defensive back during his sophomore season, Thomas became the Owls' go-to guy out of the backfield during the last two seasons.
As a junior in 2015, Thomas ran 276 times for 1,262 yards and 17 touchdowns. He also added 22 catches for 216 yards and a touchdown reception.
Thomas missed Temple's first two games last season with a hand injury. He finished with 207 carries for 953 yards and 13 touchdowns. Although Thomas' rushing usage took a dip, he became an even bigger threat out of the backfield. He made 33 catches for 418 yards and six touchdowns.
"While it's hard to imagine him handling more than just a few carries per game as an NFL runner, his roster flexibility could work in his advantage," NFL.com's Lance Zierlein wrote in Thomas' draft profile. "With his ability to operate from the slot and as a jet-sweep runner, he could be an interesting toy for a creative play-caller."
The biggest knock on Thomas heading into the draft is his size. He was listed at 5-feet-10 inches and 190 pounds at the NFL combine. Although he only missed two games over the past two seasons, he had nagging injuries and his status was often questionable heading into games.
Thomas said he's added about 10 pounds since the Owls' season ended but knows he needs to continue to add to his frame in order to handle the duties of an NFL running back.
"I don't know too many NFL running backs that's 194, 195," Thomas said. "That is a goal of mine, so putting on that weight comes with it."
CBSSports.com ranks Thomas as the 30th best running back in this year's draft class. Bleacher Report's Matt Miller has Thomas as the 31st best running back prospect.
Zierlein's NFL comparison for Thomas is New Orleans Saints running back Marcus Murphy, who has appeared in 16 games for the Saints over the past two seasons after being selected in the seventh round in 2015.
Even if Thomas doesn't get selected in the draft, there's still a chance he can catch on with an NFL team like former wide receiver Robby Anderson, who started eight games for the New York Jets after going undrafted last year.
"I did everything I could do, so now I'm just putting it in God's hands," Thomas said. "Everyone dreams of being a first-round pick, coming up as a football player and as a competitor. But I'll be just blessed to be wherever I get picked up at."
Owen McCue can be reached at owen.mccue@temple.edu or on Twitter @Owen_McCue.