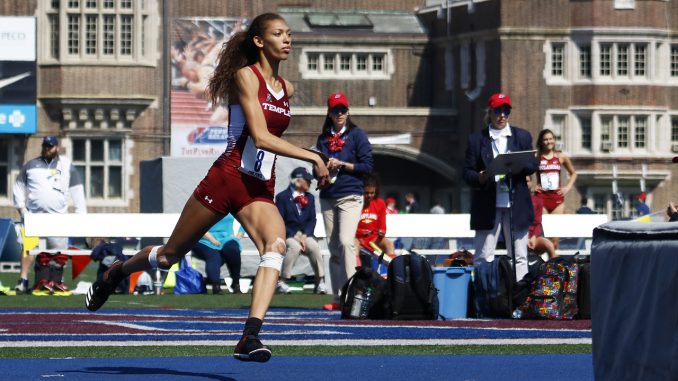 The Owls competed in the high jump and 4×800-meter relay at Saturday's 124th Penn Relays at Franklin Field.
Freshman jumper Aisha Brown participated in the College Women's High Jump Championship at 10 a.m. She finished in a four-way tie for fourth place with a mark of 1.74 meters.
Brown cleared the bar at the 1.70 meters and 1.74 meters on her first attempts. Then she didn't clear the bar on any of her three attempts once it got raised to 1.78 meters. University of South Carolina redshirt-sophomore high jumper Lissa Labiche won the event by clearing 1.82 meters.
"I think the biggest thing about the Penn Relays is there is just so much competition," Brown said. "There are people coming from all over to compete. So you get a lot of very talented jumpers, and it challenges you to be at your best because you no longer are really seen as a standout like you would be at a smaller meet."
Coach Elvis Forde saw Brown's frustration after the meet as a positive. Saturday's meet will be a good learning experience for Brown as she prepares for the American Athletic Conference Outdoor Championships from May 11 to 13 in Cincinnati, Forde said.
"She is a competitor, so she always wants to set a personal best every time," Forde said. "It is good to see how willing she is to critique herself to improve her performance. I thought she went and posted a really nice result."
The 4×800 relay marked the last event for Temple at the three-day Penn Relays. Senior distance runner Katie Pinson ran the final leg race. Pinson, junior distance runner Ashton Dunkley and freshman distance runners Helene Gottlieb and Lucy Jones posted a time of nine minutes, 5.5 seconds to place fourth out of 15 teams.
Forde said the 4×800 relay isn't among the strengths of his team. Dunkley and Gottlieb are the only runners who specifically train for the race, he added. Pinson and Jones focus more on events with longer distances.
"It was our second race of the weekend for most of us, so going into it we felt really comfortable," Pinson said. "The 4×800 isn't a race Lucy and I run often, so we just wanted to go into it and do our best and spin the legs with some fast people."
Jones said Dunkley and Gottlieb gave her a "big boost of confidence" before the race. Even though the 800 isn't her main race, she made it a priority to give maximum effort to her team.
"It can be tough to adjust," Jones said. "I was just able to go out and enjoy this time. I don't run this much, so I was excited to see what I can do out here. To run at a huge event like this was an amazing experience that made it easy to give it my top effort."
Sending a 4×800 team to the Penn Relays will benefit Temple as it prepares for The American's championship, Forde said, because it allowed him to compare the Owls' time to other schools' results.
"Overall, this was a very good weekend," Forde said. "We broke a few records and gained a lot of valuable experience at this event. We stress the importance of improvement, and we are seeing that. I have a high amount of confidence in this group of girls to perform well at the conference championships."