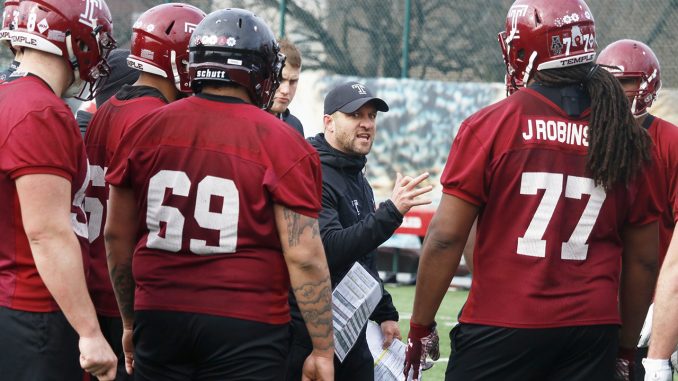 Redshirt-senior quarterback Frank Nutile lost both of his starting tackles to graduation after the Gasparilla Bowl in December.
Former offensive tackles Leon Johnson and Cole Boozer will participate in Temple's Pro Day on Monday at the Student Training and Recreation Complex.
But offensive coordinator Dave Patenaude already has two players penciled in at each spot.
Redshirt-senior offensive linemen James McHale and Jaelin Robinson will fill the void on the offensive line. McHale will play left tackle and Robinson will start at right tackle.
Patenaude said Robinson has a reserved personality, but he has started to emerge as the leader of the offensive line.
"He's really stepping out of the shell," Patenaude said. "He's a really athletic basketball kid, so he's doing a really good there."
Dave Patenaude https://t.co/dgmbpgFcBi

— Evan Easterling (@Evan_Easterling) March 17, 2018
McHale started three games at left tackle last season because Johnson dealt with injuries. He also played in a total of 10 games.
Robinson rotated in every game last season and made his first start against Army West Point on Oct. 21.
Redshirt-sophomore offensive lineman Darian Bryant is also standing out, Patenaude said. Bryant was a three-star recruit coming out of Springside Chestnut Hill Academy in Philadelphia, according to Rivals.com. He didn't play in any games last season.
Bryant has worked on losing weight to reform his body this offseason. Last season, Bryant was listed as 325 pounds. Now, he is down to about 308 pounds, Patenaude said.
Swedish freshman offensive lineman Isaac Moore and sophomore offensive lineman J.D. Gomez are developing raw talents, Patenaude said.
In addition to the two graduating tackles, Temple will not have Brian Carter at guard. He started 12 of 13 games last season. But the Owls will return three starters from their interior offensive line.
Redshirt-junior offensive lineman Jovahn Fair returns. He started the first three games last season until he suffered an injury in Temple's 29-21 win against UMass on Sept. 15. Fair returned to the field in the last regular-season home game against Central Florida and started in the Gasparilla Bowl.
Redshirt-sophomore offensive linemen Matt Hennessy and Vincent Picozzi, who combined for 18 starts last year, will start in 2018, Patenaude said.
Patenaude had high praise for the trio.
"Those three inside are as good as anybody that are going to play in our conference," Patenaude said. "They're smart, they're tough and they understand what to do. And they do a great job of communicating."
Yancy will return for training camp
Redshirt-senior wideout Brodrick Yancy hasn't had much luck at Temple. He has finished the past three seasons with injuries.
Last season, Yancy played seven games and finished with eight catches for 108 yards and touchdown. He didn't dress for Saturday's practice, but Patenaude expects him to be ready for training camp.
"The great thing for him is that he's really smart," Patenaude said. "He's in all of the meetings. He really studies, so he's not going to lose any ground by not really understanding what we're doing. He's a veteran guy."
"When Brodrick Yancy comes back, he'll be making some big plays over the top," Nutile said.
Frank Nutile https://t.co/7lig20r8Qs

— Evan Easterling (@Evan_Easterling) March 17, 2018
Nutile said all of the receivers have the speed to replace the playmaking abilities of former wideouts Keith Kirkwood and Adonis Jennings. The group includes freshman wide receiver Sean Ryan, who joined the team as an early enrollee this spring after graduating from Erasmus Hall High School in Brooklyn, New York.
During Temple's first spring practice on Tuesday, redshirt-sophomore quarterback Anthony Russo connected with Ryan for a 30-yard touchdown.
"Catching the ball comes natural to him," Nutile said. "So I think he's doing a good job of learning the offense on the go. …We're looking forward to watching him progress as the spring goes on."