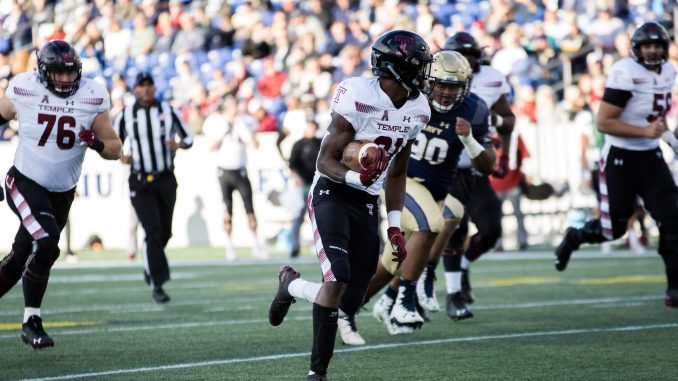 ANNAPOLIS, MARYLAND – Last night, Temple University offensive coordinator Dave Patenaude told his running backs, "Seize the day, seize your opportunity."

The Owls used a backfield by committee that featured redshirt junior Jager Gardner, redshirt sophomore Tyliek Raynor and redshirt senior Rob Ritrovato to replace senior running back Ryquell Armstead, who missed their 24-17 win against Navy (2-4, 1-2 American Athletic Conference) due to an ankle injury.

The trio combined for 112 yards rushing and two touchdowns to help Temple (4-3, 3-0 The American) earn its third straight conference win on Saturday at Navy-Marine Corps Memorial Stadium.

"I thought that they were awesome," Patenaude said. "They did not put the ball on the ground, they pounded the ball, they hit it where it was supposed to be run. All three of them contributed."

Saturday's running back group carried the load for Armstead, the team's leading rusher. Armstead has rushed for 100 yards or more four times this season. Armstead has gained 626 yards on 122 attempts and scored six touchdowns.

Armstead is progressing in his recovery, coach Geoff Collins said. Collins declined to provide a timetable for Armstead's return or say how close he came to playing on Saturday.

Six players combined for 34 carries and 109 yards rushing against Navy. Gardner and Ritrovato received the most carries. Gardner led the Owls with 52 yards on 11 carries, while Ritrovato had 12 carries for 35 yards and a touchdown.

Raynor scored the first touchdown of the game for the Owls with 11 minutes, 31 seconds remaining in the second quarter. Raynor took a delayed handoff, made a cut and juked Navy senior safety Sean Williams  "right out of his shoes" for the 15-yard touchdown, redshirt-sophomore quarterback Anthony Russo said.

"It was fun to see [the running backs] complement each other," Collins said.

Raynor missed the past two seasons due to injury. 2018 is the first time he has seen sizable playing time, partly due to the injuries to Armstead and redshirt freshman Jeremy Jennings. Raynor finished with 25 yards on three carries and scored his first career touchdown.

Patenaude said Raynor's patient running style helped him score the touchdown.

"We ran a draw and he let the thing develop, and when he [spun] it out the backside, he had one guy to beat and he broke the guy's ankles," Patenaude said.

Patenaude added that the Owls went away from Raynor in the second half and went with Ritrovato and Gardner, who are bigger backs, in two tight end formations.

Collins said that the coaches allowed Ritrovato to call his own running play on the Owls' final drive. Ritrovato ran the ball 4 yards to the Navy 26-yard line with just less than two minutes left in the game.

Temple then ran out the clock to solidify the win and move above .500 for the first time this season.

"Obviously losing [Armstead] is tough, but we needed some guys to step up and they did a great job," said Russo, who completed 23-of-31 attempts for 300 yards. "[Gardner] ran the ball real hard, [Ritrovato] had a great game and it was nice to get my boy Tyliek back in the end zone for the first time in a while. He's been battling a lot of injuries the last couple of years. So to get him going and get him back in the end zone was awesome."