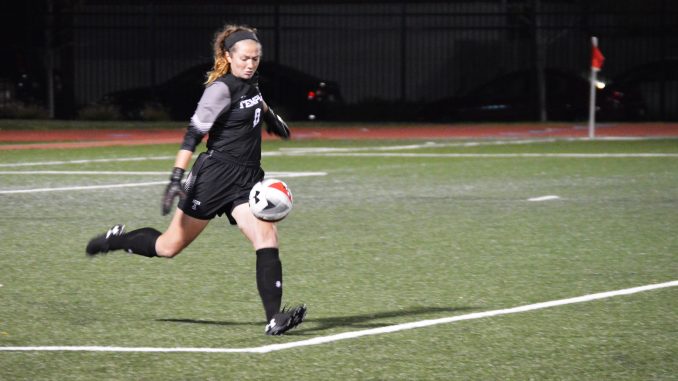 With Temple trailing by one in the 88th minute, junior midfielder Juliet Esposito took a shot.
South Florida senior goalkeeper Kat Elliott made a diving save to preserve the Bulls' lead. South Florida (10-3, 6-1 American Athletic Conference) beat Temple 1-0 on Thursday night in Tampa, Florida to win its fifth game in a row. If the Bulls win their final two regular-season games, they will claim the regular-season conference title.
With just two games remaining in the regular season, the Owls  (6-8-2, 2-4-1 The American) are in seventh place. Temple and Southern Methodist each have seven points, but the Mustangs are ahead of Temple because of their head-to-head win on Sunday and higher winning percentage.
South Florida outshot Temple, 21-8, on Thursday. After freshman forward Leah Ferlin scored the Bulls' only goal in the 63rd minute, Esposito took Temple's only shot. Junior forward Kerri McGinley and senior forward Gabriella McKeown led with two shots apiece. The Owls are in the midst of a 252-minute, 37-second scoring drought. The team hasn't scored since freshman midfielder Emma Wilkins' goal in the 18th minute on Oct. 12 against Houston.
Sophomore goalkeeper Morgan Basileo finished the night with eight saves, five of which were in the first half. She has allowed one goal or fewer in seven of her 12 starts.
The back end of the Owls' two-game Florida trip is on Sunday in Orlando against Central Florida (11-1-1, 6-0-1 The American). The Knights are No. 7 in the United Soccer Coaches poll. Their only loss came in their season opener against the University of South Carolina, which is third in the United Soccer poll and first in the Ratings Percentage Index.
The Owls will wrap up their season on Oct. 27 with a trip to Connecticut, which is fifth in the conference standings but has yet to clinch a playoff berth.