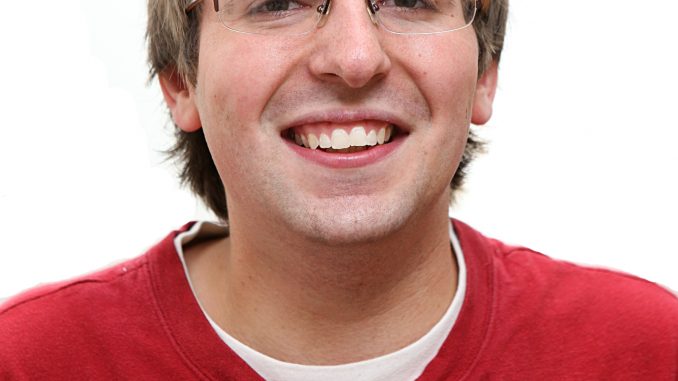 Strolling into the Pennsylvania National Guard Armory, I realized I wasn't in McMahonland anymore.
I was inside a keg of dynamite, rubbing shoulders with about 350 rowdy fans on a Friday night.
This was Death Before Dishonor XI, an Internet pay-per-view presented by Ring of Honor.
If you have never attended an independent wrestling show, you'll be culture shocked at the disparities between the sanitized production you see on TV and the organic, no-holds-barred atmosphere of an underground organization.
College kids, as well as older men and women, stomped against the bleachers, rallying the Tommaso "Sicilian Psychopath" Ciampa to smash fan favorite Adam Cole into the steel guard rail for a third time.
When "Mr. Wrestling" Kevin Steen entered the squared circle, the fans hurled streamers into the ring as an act of respect toward their hero.
There were maybe three children in the crowd, which might have something to do with the creatively foul chants. A rotund referee missed a pin attempt in the main event and received echoes of "You fat f—!"
Honestly, I enjoyed the spectators' vocal participation. Although repetitively shouting "Yes!" can be fun, these ROH followers incorporated some current events and pop culture references into the banter. As the Russian sympathizing Forever Hooligans defended the IWGP Junior Heavyweight Tag Team titles against the American Wolves, a melody of "Pussy Riot" and "Rocky 4" chants accompanied the chaotic match.
And I didn't see a single sip of alcohol.
The main attraction of the event was the culmination of a 16-man tournament to crown a new ROH World Champion. After Jay Briscoe was stripped of the belt in July due to an injury at the hands of Matt Hardy, ROH matchmaker Nigel McGuinness wanted to award the No. 1 contender Michael Elgin with the gold. However, Elgin and his mullet refused to accept the title unless he earned it.
Therefore, McGuinness scheduled a single-elimination tourney featuring current stars such as Ciampa and Cole, as well as pioneers such as Paul London and Brian Kendrick.
With only Ciampa, Cole, Steen and Elgin remaining, Briscoe opened the show to challenge whichever man won his championship.
The first semifinal match pitted Ciampa against Cole in a high-octane war. Ciampa, a blend of Ryback and Stan Hansen with entrance music similar to Taz, relentlessly punished Cole with hard knee strikes. Once Cole gained a breather, he targeted Ciampa's left knee-brace and locked in a figure four that The Miz should take notes on. Unable to force Ciampa into submission, Cole booted his foe in the head over and over until Ciampa was knocked out for the pin.
In the second semifinal match, Steen and Elgin pounded each other in a violent big man battle. Although Steen's attire of basketball shorts and a T-shirt to cover his gut left a lot to be desired in a professional athlete, his ability to connect with the people briefly evaporated my WWE "tall, tan, and muscular" brainwashing. Steen could definitely move around and Elgin matched his agility with mesmerizing strength. Elgin deadlifted Steen into a German suplex with a bridge and then shifted into a crossface. Even with the love of the people behind him, "Mr. Wrestling" tapped out of the championship chase.
Despite the torture Steen suffered, Elgin was the man in need of medical attention following the contest. After a hearty handshake between the two grapplers, Steen threw one of Elgin's ice packs into the stands. A man grabbed it as a unique souvenir, but the production crew demanded he return it to the referee.
With the abuse these athletes endure, I guess they need all of the frozen peas possible.
Other matches on the card included Randy Savage's brother from another mother "Black Machismo" Jay Lethal outwrestling Silas Young, Adam Page defeating R.D. Evans, Roderick Strong beating Ricky Marvin and the Forever Hooligans retaining their titles against the American Wolves.
There was also an eight-man-tag team match, but former Playboy cover girl Maria Kanellis frolicked around ringside so I surrendered my journalistic integrity for just a few glorious moments.
After reinstating Jimmy Jacobs due to the retiring BJ Whitmer's plea, McGuinness brought out three judges to decide the winner of the tournament final just in case the match went to a 60-minute time limit draw.
As ROH Ambassador Cary Silkin, COO Joe Koff, and talent scout Prince Nana scribbled in their scorecards, I wondered how Cole and Elgin could physically last at this break-neck pace for an hour.
These warriors hit each other with every move in their arsenals. Elgin clotheslined Cole inside out. Cole crushed Elgin with a vintage Petey Williams Canadian Destroyer. Both men crashed into the judges' table.
In the end, Elgin should have just accepted McGuinness' generous offer in July because Cole finished the match under the time limit with his signature Florida Key.
True to his word, Briscoe lumbered toward the ring to hand Cole the world championship, the same strap once worn by CM Punk and Daniel Bryan. As soon as he turned his back though, Cole super-kicked the former champion and then smacked Elgin across the face with the belt.
I learned of these characters only three hours earlier, yet I was appalled that the fan favorite turned evil. That's the addictive, rapid pacing of ROH. However, I longed for the slower, in-ring story-telling of WWE Superstars. For example, Steen delivered an F-5 to Elgin, but only got a two count. A move as devastating as Brock Lesnar's finisher should not be a set-up to 12 elbow strikes and four powerbombs into a turnbuckle. With most tickets selling for only $20, these young men are risking their lives for very little reward aside from the passion of the fans.
Yes, this is wrestling. But at this rate, how much longer can it survive?
John Corrigan can be reached at john.corrigan@temple.edu.