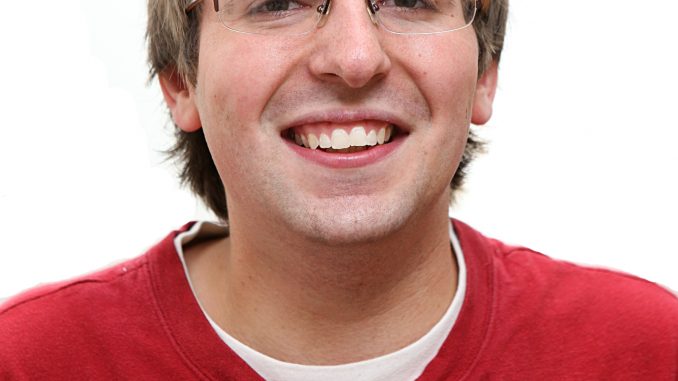 After the three best years of my life, my girlfriend and I have broken up.
Although we threatened to end our relationship in the past, as is the norm for omniscient 20-somethings, we always worked things out with tearful screaming, awkward silence, even more awkward chuckling and then heartfelt apologies.
This time, however, neither of us is sorry.
We overcame a year of distance, familial tensions and a highly publicized article about her menstrual cycle – yes, she kept me for nine months afterward, and no, that's not why we broke up – but we couldn't fight evolution.
People change, which I keep telling myself is a good thing.
Unfortunately, adjusting to losing your best friend takes more time than texting, "We need to talk."
While I attempt to find solace by studying Will McAvoy's internal struggle over Mac, Aaron Sorkin's characters just can't compare with the heroes I've been living vicariously through since my first cootie.
Professional wrestlers have brawled over women for years because it is a time-tested, money-drawing angle. Whether competing for a valet's affection or to defend her honor, grapplers usually gain a stronger reaction from fans by interacting with a diva. For instance, Eddie Guerrero established himself as a major player in World Wrestling Entertainment by pairing with Chyna. Guerrero's talent was appreciated internationally, but his "Latino Heat" personality shone through his affection for the jacked "Mamacita."
If break-ups in the age of social media seem chaotic, imagine the mayhem when wrestling relationships finally sour.
The most recent split featured Dolph Ziggler dumping AJ Lee after she accidentally got her man disqualified in his contractually-obligated rematch for the World Heavyweight Championship at Money in the Bank. The mentally unstable Divas Champion issued her bodyguard Big E Langston to destroy Ziggler, but the angle concluded within a month at SummerSlam.
Five years from now, we'll group this storyline with Zack Ryder and Eve, Test and Stacy Keibler,and X-Pac and Tori in the array of toxic flings without long-term impact. Let's face it – nothing is memorable about those pairings aside from "Hoeski" chants and "Testicles" T-shirts.
In order to cope with my heartache, I need a break-up etched in the annals of pro wrestling history, perhaps the 2002 demise of the McMahon-Helmsley regime.
After Hunter Hearst Helmsley drugged the daughter of WWE Chairman Vince McMahon and married her at a Las Vegas drive-thru chapel, Stephanie McMahon turned on her father and sided with Triple H. The power couple orchestrated championship victories for their friends and themselves and operated the company dictatorship-style. Aside from Kurt Angle slithering between Triple H and McMahon's daughter for a summer spell, the evil duo remained solid until the "Cerebral Assassin's" return from a torn quad. Their fighting escalated until McMahon blurted that she was pregnant in an effort to reconcile the trouble and renew their wedding vows. She didn't count on her mother snitching to Triple H about the pregnancy being a lie, which led to "The Game" terminating their marriage and shoving his former bride on her derriere.
Of course, they're back together today because running a billion dollar empire is all it takes to forgive one's wife.
With my journalism degree and my ex-girlfriend's childcare aspirations, a promising fortune does not rank on the list of reasons why we'll drunkenly call each other.
Since my ex-girlfriend didn't cheat on me, I can't apply the Matt Hardy mentality of swarming the Internet in an emotional tornado. In 2005, the daredevil learned that his girlfriend Lita had been cheating on him with WWE superstar Edge. The company released Hardy and he responded with a viral campaign attacking his former coworkers. Cashing in on the rare circumstance where fiction can blend with reality, the WWE rehired Hardy and slotted him in a feud against Edge and Lita. The "Rated-R Superstar" and his vixen got the upper hand on Hardy throughout the feud before they all drifted into different directions.
That leaves me with the most memorable split in sports entertainment: Randy Savage and Miss Elizabeth.
Married in real life, Savage and Elizabeth appeared on TV as a typical wrestler/valet combo,  except for Savage being a paranoid jerk to his enchanting, innocent lover. After years of bossing Liz around, the "Macho Man" finally lived up to his moniker by defending her against The Honky Tonk Man. Teaming up with Hulk Hogan, Savage and Elizabeth formed a triangle of success with the "First Lady of the WWE" accompanying the Mega Powers in their battles.
In February of 1989, the Mega Powers dissolved as Savage's insecurities clouded his judgment, compelling him to ambush Hogan, who was checking on the injured Liz in the backstage area. Once the Mega Powers exploded, Elizabeth separated from Savage, which led to Macho aligning with the notorious "Sensational" Sherri Martel until WrestleMania VII.
Considered the greatest payoff to any wrestling storyline ever, Savage lost a "career match" to the Ultimate Warrior. Since her meal ticket was now useless, Martel mercilessly stomped her wounded charge. Emerging from the crowd, Elizabeth yanked Martel off of Savage, threw her out of the ring, and reunited with her husband. Savage became a hero again and wrestling fans had a reason to believe in love.
Whenever that reason is in doubt, we're able to re-watch that magical moment and relive those blissful feelings. Maybe I should stop typing and give that match another look.
John Corrigan can be reached at john.corrigan@temple.edu.