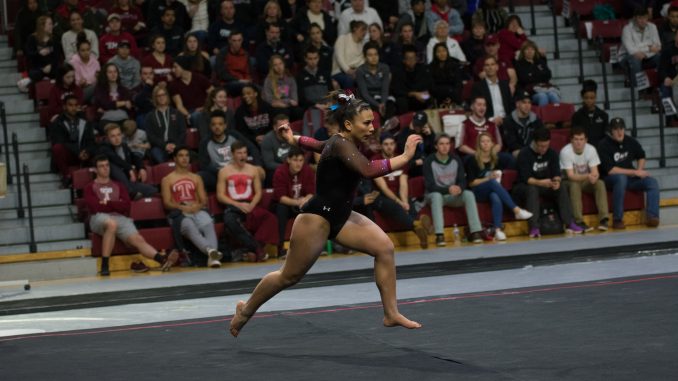 Temple (12-3) placed first in a quad meet at the Penn on Sunday.
The Owls' score of 194.700 edged out Bridgeport University's score of 194.225. The Quakers placed third with a score of 193.725, while Ursinus College placed fourth and scored a 186.900.
"The team just stayed focused in from the first event all the way to the last," coach Umme Salim-Beasley said. "They knew that they couldn't look beyond what they were doing at the moment and just concentrate on doing the routines as best they possibly could."
Temple registered the top score in the vault with a 48.725.
Senior all-around Sahara Gipson scored a team-high 9.850 in the vault, while freshman all-around Monica Servidio and sophomore all-around Daisy Todd tied for the team lead in the bars with a score of 9.750.
Servidio, who's one of eight freshmen for Temple, competed in all four events — bar, vault, beam and floor – for the second time with the Owls. She won the all-around on Sunday for the first time.
"She's a very calm and focused competitor," Salim-Beasley said. "You'd expect with a freshman that they'd show nerves at times, but I think we've worked very hard to prepare our athletes to handle any type of pressure situation."
Freshman all-around Tori Edwards topped the Owls in the floor with a 9.850.
"They came in really hungry and ready to compete," Salim-Beasley said. "They just come in and give their all for me. [Edwards] has been consistent from her first competition until now and really having strong performances."
Temple will face Bridgeport, Ursinus and West Chester University at the Ken Anderson Invitational at McGonigle Hall on Feb. 17.