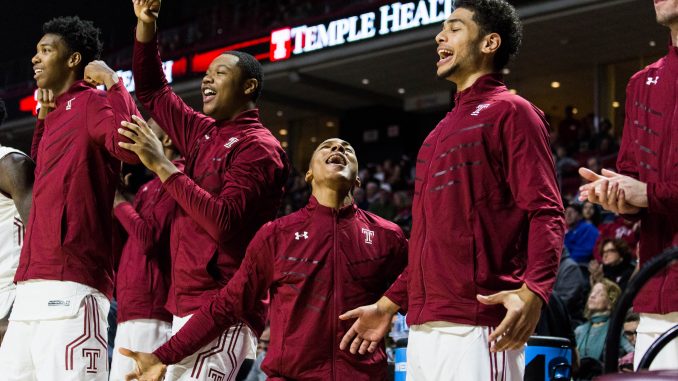 The Owls didn't qualify for the NCAA Tournament on Selection Sunday, but they'll have opportunity to play in the postseason.
Temple (17-15, 8-10 American Athletic Conference) earned a No. 5 seed in the National Invitational Tournament on Sunday and will face No. 4 Penn State on Wednesday at 8 p.m. at the Bryce Jordan Center on Penn State's campus.
Penn State (21-13, 9-9 Big Ten Conference) finished the season with a 14-4 record at home, including a 79-56 victory against Ohio State University on Feb. 15. Penn State beat Ohio State three times. The Buckeyes earned a No. 5 seed in the NCAA Tournament on Sunday.
The Nittany Lions lost, 78-70, to Purdue University in the semifinals of the Big Ten tournament on Saturday. They entered Sunday on the NCAA Tournament bubble hoping to earn an at-large bid. Penn State hasn't played in the NCAA Tournament since 2011 and hasn't qualified under seven-year coach Pat Chambers.
Temple and Penn State have faced off against each other 92 times. The Owls lead the all-time series 60-32. The winner will advance to face either the University of Notre Dame or Hampton University.
The Owls and Penn State last met in the 2011 NCAA Tournament. Temple, a No. 7 seed, beat No. 10 Penn State 66-64 off former guard Juan Fernandez's shot with less than a second to go.
Penn State's last win in the series came in a 66-60 victory on Dec. 9, 2001.
Temple last made the NIT during the 2014-15 season. Temple barely missed the NCAA Tournament as a bubble team and had a No. 1 seed in the NIT. The Owls reached the semifinal round at Madison Square Garden, where they lost to the University of Miami.
Temple will make its 19th NIT appearance. The Owls won the tournament in 1938 and 1969.