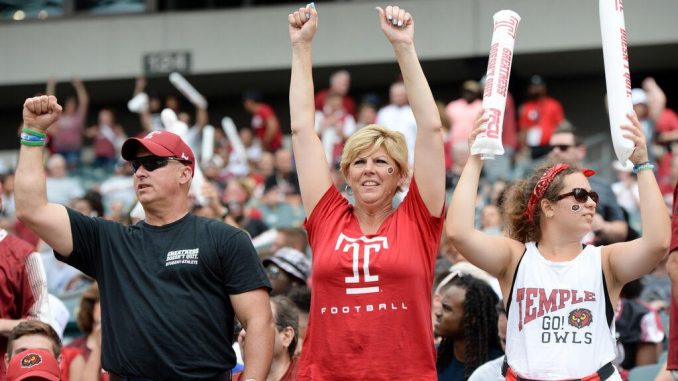 Coach Geoff Collins' departure from Temple University to Georgia Tech on Friday shocked Re'Mahn Davis and many of the other high school football players who verbally committed to Temple.

"None of us knew he was leaving, we were all under the impression that he was staying," said Davis, a running back for Blair Academy in New Jersey.

Some of the other recruits met with Collins on Thursday, and Collins said he was staying at Temple, Davis said.

As of Friday, 24 Class of 2019 recruits had verbally committed to Temple, according to Rivals.com. With Temple looking for Collins' replacement, Ed Foley taking over on an interim basis and the early National Letter of Intent signing period from Dec. 19 to 21 approaching, players are deciding if they'll stay committed to Temple or re-open their recruitments.

NCAA rules prevent coaches from commenting on recruits before they sign. As of Sunday, Temple has the fourth-best recruiting class in the American Athletic Conference and the 57th-best class overall, according to Rivals.com.

Defensive back MJ Griffin, who is the Owls' highest-rated recruit according to Rivals.com, took his official visit this weekend and told Rivals he'll remain committed to Temple. The three-star recruit from Michigan chose Temple over offers from conference rival Cincinnati and Power Five schools like Iowa State University.

Victor Stoffel, an offensive and defensive lineman from Sweden, also took his official visit this weekend. Stoffel intends to sign during the early period and join the team as a mid-year enrollee in January, he told The Temple News.

"I had a great time at the visit and loved everything I saw," Stoffel said. "I think coach Foley is great, and I would be happy seeing him as a head coach and I'm sure that whoever they get is going to be great. But as I learned this weekend, it doesn't matter who the coach is it's the players that make this team."

Five of the verbally committed players are from New Jersey, and two of them — defensive back Nathaniel Wyatt and defensive tackle Wisdom Quarshie — told The Temple News they'll remain committed.

Quarshie likes that Temple is close to his home in South Jersey. Once Temple hires the 28th coach in program history, Wyatt wants to introduce himself.

"I want to get to know the coach and everything, all that, but with the other coaching staff being there, I feel really comfortable," Wyatt said. "So I would probably stay and just stick with the atmosphere and everything."

Davis, for the time being, is going to re-open his recruitment in case the new coaching staff doesn't have a spot for him or like his playing style, he told The Temple News Friday. He'll also probably wait to sign his National Letter of Intent until the regular period, which begins on Feb. 6, 2019.

Davis has offers from Football Championship Subdivision schools like Towson University and the University of Maine and Football Bowl Subdivision schools like Navy and Kent State University, according to Rivals.com. Kent State wants him to join as a mid-year enrollee, he said.

"My first choice is definitely Temple. …I know with new coaches coming into new programs, they bring their own staff and I don't really know if that staff will like the way I play, what I bring to the table," he said.

"I didn't pick Temple for coach Collins or for any of the coaching staff," Davis added. "I picked it for the world-class education that I could get, for all the good benefits that could come to me after college, getting a degree and just hoping to succeed and be successful and do the right thing for my family."

Re'Mahn Davis, a running back from Blair Academy will re-open his recruitment after former coach Geoff Collins' move to Georgia Tech. | COURTESY / RE'MAHN DAVIS

One of the reasons Georgia Tech hired Collins is because of his track record as a recruiter, particularly in the South, athletic director Todd Stansbury said. During his second stint at Georgia Tech as the recruiting coordinator in 2006, the Yellow Jackets had their highest-rated class in history at the time.

Temple's current verbal commits include three players from Florida, two from Georgia and one from North Carolina. The players from the southern states are some of the highest-rated in the class.

Zaylin Wood, a three-star defensive end from Georgia, is the No. 2 player on Temple's verbal commits list with a 5.6 rating, according to Rivals.com. Kennique Bonner-Steward, a dual-threat quarterback from North Carolina, and Ja'Quan Sheppard, a wide receiver from Florida, are both three-star recruits with 5.5 ratings.

Before his introductory press conference on Friday, Collins joined 680 The Fan in Atlanta and discussed if he'll try to bring players, particularly those from southern states, he recruited to Temple to Georgia Tech.

"I've been being hit up throughout the day, obviously I can't say by who or when, from different recruits interested that know me, know my story, know my background at different places I've been," Collins told 680 The Fan. "And I've always kept a huge presence here in the Southeast whatever stop I've been, and particularly Atlanta, recruiting-wise. And so we will continue that."

Quarshie wished Collins luck with the Yellow Jackets, who the Owls will face next September.

"I can't get mad at him for what he's doing," he said. "He's doing what's best for him and his family, and he's just living up to his dreams."

Sam Neumann contributed reporting.